Post by Psychosis on Oct 2, 2008 15:18:10 GMT -5
Desert Loadouts of the Early 90's
I am by no means an expert, just a moderate geardo who got into airsoft sometime between the release of Blackhawk Down and Marui's release of the M733. This is what I've garnered through movies, pictures, first-hand accounts, and whatnot since I think early 90's desert gear is badass, and no one else in Michigan really goes for them. One of the nice things about early 90's desert stuff is that most of the gear is easily acquired, and relatively cheap.
----------
Period Weaponry
AEG's are really simple - anything with a fixed carry handle and without frills will do.
- M16A2 with optional M203
- Any carbine with a fixed carry handle - early M4's/M727's, M733's, XM177's, etc.
- Beretta M9
- 1911 - was getting phased out, but a few people still carried them.
- Remington 870 shotguns, stockless most likely
- FN Minimi/early models of the M249 with the skinny foregrip and stock.
- M72 LAW's
----------
Essential gear items for a US Desert impression from the early 90's
-
ALICE gear
Y-suspenders, LC-2 belt, rifle mag pouches, canteen pouches. Other pouches include a buttpack, M12 holster, and compass/first-aid pouches. Arrange as you will, though in my opinion the minimum is two rifle mag pouches and two canteens.
-
Boots
Black or Tan... really doesn't matter, as long as it's not the jungle boots with OD on the sides.
-
Black-colored, large frame goggles
Ideally you'd be able to use the issue sun, wind, and dust goggles but their lenses are pretty fragile and unsafe for airsoft use. ESS Striker series, Bolle X500's, and old Blackhawk tactical goggles should make good substitutes. In my opinion, ESS NVG's, Blackhawk ACE or Spec Ops, and Oakley A-Frames look too high speed, if you catch my drift.
-
Desert Camouflage Uniform
6-color during Desert Storm, transition period between that and '93, primarily 3-color DCU's with 6-color headwear by October '93. Really, you can get away with either later on, but 6-color only for '91 is what it looks like.
----------
Somali peacekeepers impression
TFR wasn't the only group of American soldiers in country. This is what I've gathered on the other US peacekeepers and whatnot, with a sample picture.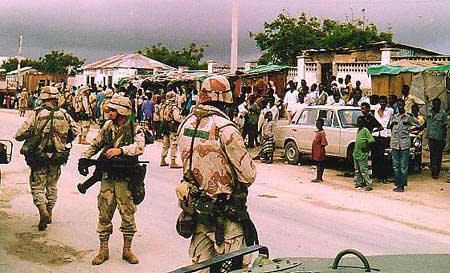 - 3-color or 6-color DCU's
- K-pot with 6-color cover and OD cat-eye band
- ALICE gear
- 6-color
cover
over the PASGT flak vest - I haven't found a replica of the flak vest yet, and though the real ones are cheaper (a little north of $100) they're kind of heavy at 9 pounds. For now, I'd just stick a cover over whatever body armor replica I have.
Note: The PASGT vests were all made in woodland camouflage, and the military simply issued desert covers for them. That is the difference between the cover and the vest, in case it wasn't clear.
Per sh1ft, this is the PASGT vest, aka flak jacket:
----------
Period Impressions
I'm primarily focusing on '93 and the Somalia operations in that year.
----------
Delta Force Impression, based on the movie
There really aren't "official" pictures of Delta that I've seen, so I'm just going along with how they were portrayed in BHD. One of the first things to note is that Blackhawk supplied most, if not all of the gear for the movie, so you can't go wrong using their stuff.
Good link to pictures from the set:
www.onesixthwarriors.com/photos/bhd_gallery/
Production photo of some of the Delta actors:
Comms:
Looks like some had throat mics, while others had a certain model of Otto headset. The information for that used to be available on Airsoft Players, but that website has been down for years.
Universal Delta items:
- Black kneepads
- OD flight gloves
- Black PT Body armor with optional US flag patch on the chest
- Black skateboarding helmet - I went with the Protec classic
- Black Blackhawk thigh holsters, most likely the Omega IV series
Gear variations:
There was a lot of variety for the actors who played Delta operators, and some unusual shit going on gear-wise in the movie. I can identify some main variations on gear:
- Black DOAV's stripped of their pouches and just used as suspenders for ALICE gear on a black pistol belt, with a black or OD blackhawk chest rig over the vest.
- DOAV, but just with rifle pouches and a compass/first aid pouch on the shoulder, without additional chest rig, with black pistol belt and ALICE gear
- Black Omega Vest with black pistol belt and ALICE gear, what sticks out to me is that this vest still has all its miscellaneous pouches attached and the distinctive hawtex shoulder pad.
- Gary Gordon - just the black chest rig and ALICE gear with Y-suspenders
- Shughart - not really sure...
- H-harness with ALICE gear, and OD chest rig
Note: All of these rigs go over the PT body armor.
This is the screen-used Gary Gordon loadout:
For me, I basically went with a variation of that - ALICE gear with a M12 holster substituted for one of the mag pouches and the black chest rig. Still have to get a proper large flag pouch for the PT body armor replica.
----------
'93 Ranger Impression
With the Rangers, there's actually first-hand accounts and pictures available (Mullen to Relish: except for the magpuls, you've basically got down what we wore back then!), so their loadout is easier to match in a sense.
- 3 or 6 color desert DCU's, seen both
- K-Pot with 6-color cover and OD cat-eye band
- ALICE gear, M203 vest for grenadiers
found here
- Woodland RBA or black body armor (unsure of type)
- optional black kneepads
The tricky thing is the woodland RBA - airsoft versions do exist, but they cost at least $100, and seem to only be available overseas. I wasn't able to get one in time for Irene, and I figured that since I already have my Delta impression down that would be good enough.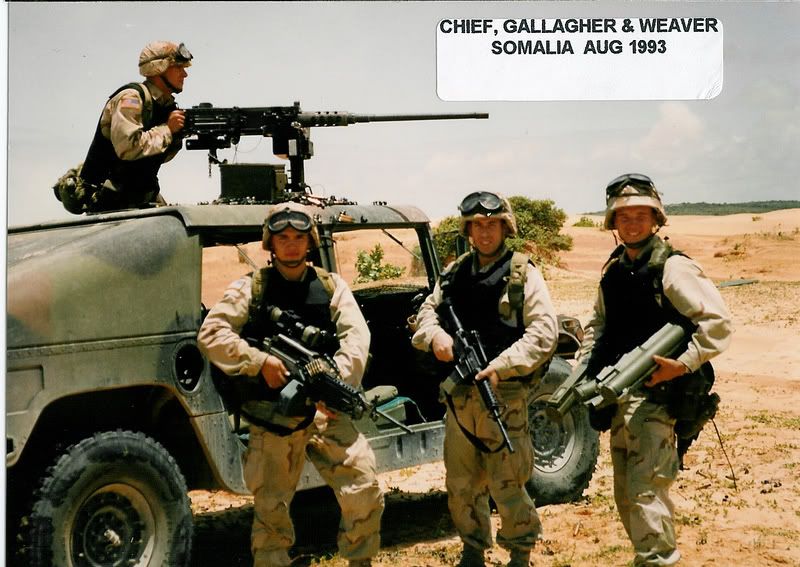 ----------
Costs
Here's the way I figure it, for a Delta loadout similar to mine.
PT Body Armor replica: $40-65
M733: $130 or $260 depending on brand
Set of DCU's: $25-40
ALICE setup: $40? No idea, prices on pouches and stuff vary a lot
Desert boots: $40+ depending on brand
Alta kneepads: $20
OD flight gloves: $20-30
Chest Rig: $20 or $50, depending on if it's Blackhawk or knockoff
Goggles: $30
Protec: $30
Roughly... $600 or so at the high end, not including other frills like flashlights, magazines, etc.
----------
Basically finished impressions
Yeah, Relish's DCU's are too large, they're his brother's. He's got a PT replica, not the RBA, but whatever it's woodland.
Comments welcome.