Post by Nightcrawler on May 31, 2005 9:18:02 GMT -5
Here's your before pic:
Well, I finally finished the wooden handle for my machete. It took me so long mostly because I procrastinated and I lost the handle parts for a while (couch cushion).
This is what I did. You might be able to use my info to help you with similar projects like making wooden handles for your pistols or something:
I started with an oak plank and traced the plastic handle parts onto it. I cut them out and then came the hard part. I started to contour them with a hand file. I took frequent breaks because it kinda makes your hands raw. When I got the general shape, I used a power-sander (not a belt-sander) and made everything smooth. I used the plastic handle to mark where to put the holes on the new handle. I used a counter-sinking bit and then drilled all the way through the center of them. I used those same holes to mark guide holes on the opposite handle. I used pre-stain conditioner on them and stained them. I left the stain on for a few minutes, wiped 'em dry, and left them in the sun for an hour. When the stain was all set, I did a coat of varnish and let it dry for an hour, then did another coat. I used some steal wool to "sand" the varnished handles without scraping anything. Now the handles are done so I put some epoxy on the inner-side of the handles and attached them to the blade, making sure everything was alligned (I actually had to grind down parts of the blade for everything to fit just right). I screwed the screws (I chose not to paint the screws)through both sides and everything was secure. The epoxy took about another hour to dry and I was done.
Here's the pics: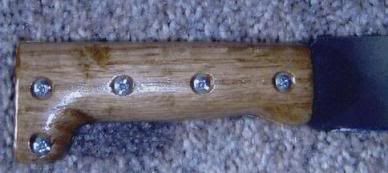 I'm tossing around the idea of clear-coating the blade but I don't want to make the blade shiny. So there's my machete project all done. I'm thinking about find an ideal gbb so I can make handles for that too. Let me know what you think. Thanks to Arnie's for the inspiration and tutorial.
arniesairsoft.co.uk/?filnavn=/projects/wood_grips/index.htm