Post by fuzzywolly on May 20, 2015 18:00:15 GMT -5
Finally back in the game!
Fellas, it has been awhile since I was selling my cusotm ghillie suit kits on the boards. I had a few messages in my personal PM's from here and apologize for having to turn down offers for I was very busy. But I am back!
I have recently partnered up with a few Army buddies and we are getting the ball rolling on this. They are extremely eager to assist me in bringing the ghillie suits/kits back into the game, and I can assure you that I am excited as well.
For the next few months, my schedule, which is usually hard to figure out and predict, is going to be pretty open, so ghillie suit kits will be sold frequently. We have already started on some ghillie suit kits including jute and burlap packages.
So with that said, I am going to be posting some things that we have to offer throughout this thread, and updating this post frequently. If you are interested, please PM me as soon as possible. First come first serve. Going to be sending out the first packages this coming weekend so you won't have to wait long at all.
Here we go!
1. Natural Jute Package:
---8 bundles of jute (each jute bundle is 2 16x16 in pieces of burlap destringed)
---$25
2. Dry/Fall Jute Package:
---2 bundles of tan natural jute
---2 bundles of dark brown jute
---2 bundles of dark tan/potato (color wise) jute
---2 bundles of light green jute
---$29.99
***Great for the desert or fall environment with dead vegetation
3. Tan/Brown Combination (one of my favorites for fall ghillies)
---6 bundles of natural tan jute
---2 bundles of dark brown jute
---$25
Used in this suit below: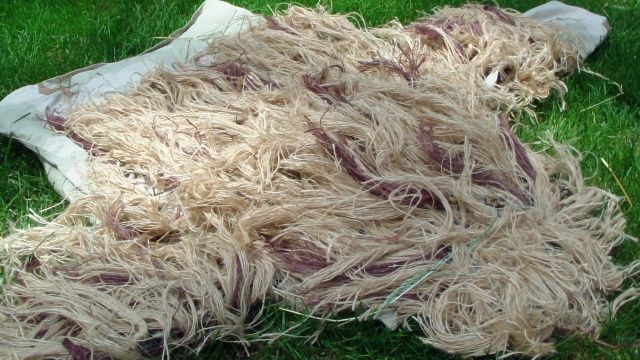 4. Custom Color Kit
---Right now our colors are limited to a few, but we are in the works to adding more once we get the right dyes.
---Tan (natural)
---Dark Brown
---dark tan(potato colored)
---light green
---dark green
---Just specify how many bundles you want and we can get the price figured out. We work with bulk buyers, and will give you discounts as the more you buy.
Please let me know if you have any questions. We are flexible. We work the deal so that it is the best for you to make your ghillie suit. We are here to help you. Just let us know what you need.
PM me now with any questions, or if you would like to order.
Here are some pics of my work. I use the same kits that I sell on here for my own: