Post by luke213 on Feb 22, 2015 16:19:20 GMT -5
Well guys I was supposed to go to a game today but it was cancelled because of the cold weather(right now it's around -5-10F and allot less with wind chill). So since I was half geared up I decided to do some gear testing of my current cold weather gear along with some test firing on my sniper rifle. I tried a few different combinations before coming into this setup that worked well.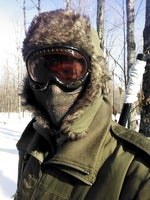 Rundown on gear well general run down. Top to bottom, Hat is a flap style hat I got from Menards on clearance and I dig it, been using it as my normal hat lately up here since it's been so cold. Under that I've got a thin baklava and mesh facemask over that. Goggles normally I wouldn't run tint but it was so bright I used some Oakley goggles I never use because they are tinted. Upper body level 1 and 2 ECWCS Gen 3 long underwear and a very heavy sweatshirt. Lower same ECWCS long underwear layers, then ACU BDU's. Over layer is a German coverall that is insulated, I haven't looked into the make/model got it in trade at a gunshow and planned to use it for out working in the cold but liked it for airsoft and it's been being used off and on there. I like the warmth but it's not waterproof so it's less than ideal for somewhat warmer temps where you get wet. Then boots I've got some -40 rated boots that I've been running they are wearing out though so it will be time to replace them soon.
Overall this worked pretty well other than I got hot a bit and had to open the top of my upper body some to vent some heat off. Couple times I took my hat off just to let a little air in. Didn't have any fog issues, the goggles are thermal lens but I did have some interior icing which is somewhat new. Mostly the condensation instantly turned to ice and froze around the edges. My beard froze to the mesh mask a fair bit after a while and it pulled a few hairs out, that wasn't much fun but not a huge deal.
So my gear passed muster at least for my needs if I decide to play a fairly cold game. I've been known to play and organize games down to pretty cold temps around zero typically is when I'm going to call one off. But I hadn't really tested this new gear since I got back into airsoft so I figured today was a good chance to give it a go. I might actually go back out with an AEG in a little bit and do some more testing with a slightly different setup run some of the other ECWCS layers that I've picked up and try a little different setup. Either way figured I'd share since I took a snapshot before I came in.
Take care!
Luke