Post by Ogre on Aug 23, 2014 0:41:35 GMT -5
Credit Goes to
Vic (Rattlehead)
for this Idea.
Mods Please move to event section if you find this idea helpful.
Vic brought Up this Idea and I got behind it. I created a public calendar via Google Calendar to act as a quick reference guide to to the various events around going on around Michigan. Similar to the MAP Idea this system will contain event dates and times along with some basic info on the event such as price and the address, which will bring you to google maps once clicked upon. This is not meant to replace the current system, as the standard event posting on the forums works better for keeping things organized and a roster updated. This is meant to complement the current system, added just a little bit more functionality, showing you how events line up with other events and for the budgeting Airsofter, allowing the to more effectively plan there budget to attend games, instead of just throwing down a going to a Rec at Hell's Survivors for example, and going to an event at Bangor, without realizing that they are only a week apart.
More importantly however, from this point forward it will provide a quick reference history to events in Michigan, without having to dig through pages upon pages of events to look something up in the past, Boom its all right there, saved in everyone's Google account, which I will be updating these events with their respective AAR, links will be provided in the event details.
Maybe some of you will think this is needed, maybe some of you will think it isn't, however I am getting behind this idea and will take full responsibility for keeping this up to date until someone wants to take over.
Calendar Link
Calendar
For those who want to embed this into their websites here is the code
<iframe src="https://www.google.com/calendar/embed?src=5itgsobm2ovf0gj0shbr52lb78%40group.calendar.google.com&ctz=America/New_York" style="border: 0" width="800" height="600" frameborder="0" scrolling="no"></iframe>
Example Images
Editing Perspective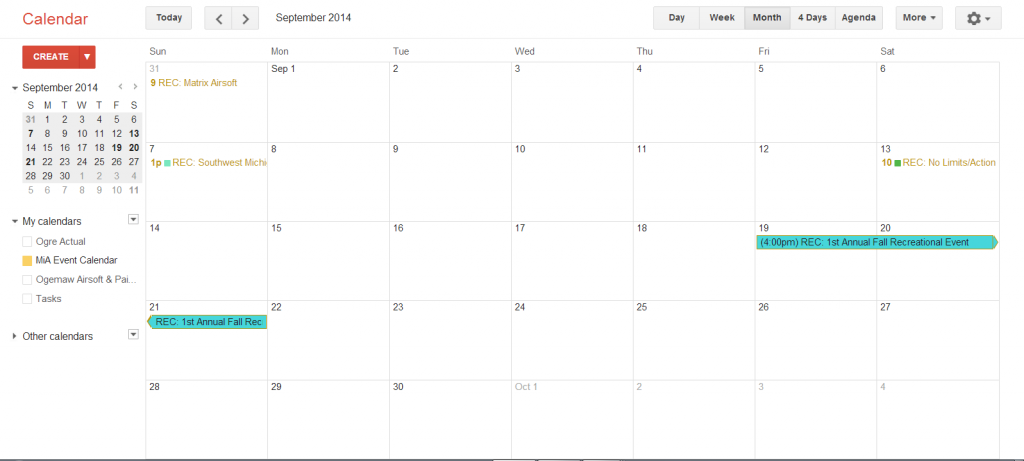 Your Perspective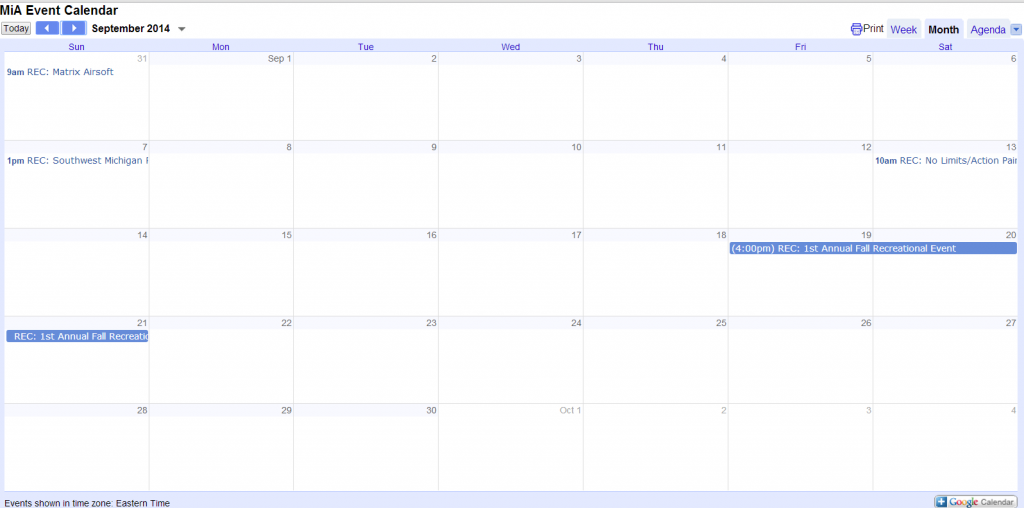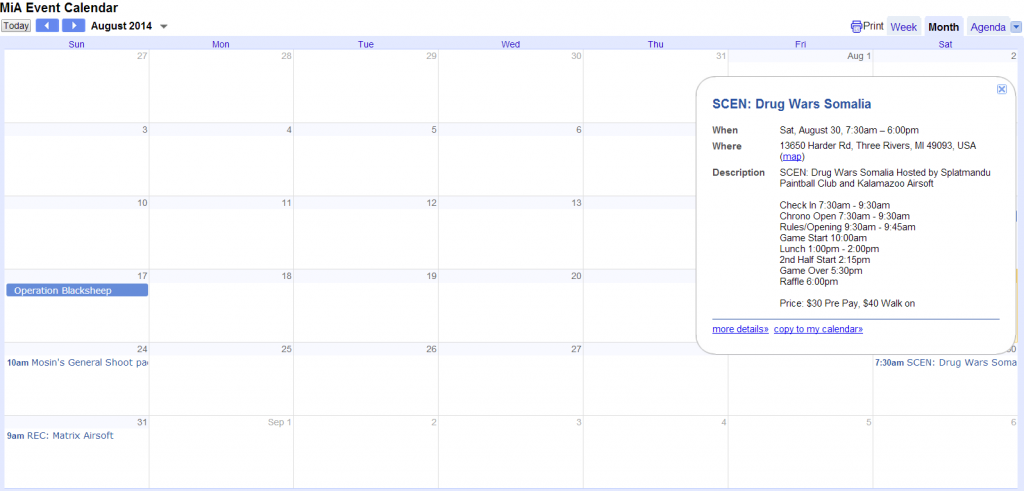 Any suggestions are welcome, I already plan on adding all National Level Milsim from Blacksheep, Lions Claws And American Milsim on here, as well as color coding Milsim, Scenario and Rec games, that will come soon.
EDIT: Having a bit of trouble actually linking the Calendar, any suggestions?