Post by Impulse on Jun 12, 2014 0:09:35 GMT -5
As many of you know, I am a three-year veteran of Operation East Wind, a week-long milsim event that takes place annually in the central US. The event meshes operational planning and skillful execution with historically
correct equipment and techniques to create a top-notch airsoft/reenactment blended event, providing 24-hour-a-day immersion for up to 9 days at an affordable cost to the attendee. It's truly an unbeatable experience that comes with my fullest recommendation for anyone out there with the ability to schedule vacation time away from work, family, and sweethearts - a narrow slice of the milsim community to be sure.
I have been asked about East Wind experiences at events before, but the scale of the event means that the stories are considerably longer. Combine this with the fact that I am not much of an orator, and you end up with a lot of stories that are never told. Well, I feel I am decent at writing, and need to get warmed up for working on a story for some video game project that I'm attached to, so I feel this is an adequate way to get warmed up. So, for those that haven't been able to attend, and don't see the day coming where they will make the trip, I offer you the opportunity to live vicariously through my experiences in these slices of East Wind lore.
Story 1: Clobberin' time
East Wind 7, Early Week
East Wind's storyline is often a perfect example of a situation escalating out of control. The world situation is drawn up with careful references to actual events and training exercises from the Cold War, applying a slight "What
if?" twist to give us the opportunity to get trigger time. The event takes place in the time period between 1988-1992 - an especially volatile part of history which also has the benefit of providing a wide variety of
easy-to-find military surplus items. The escalation of the world situation is often tied in nicely with a ramping-up of operations for both companies as they finish setting up equipment and complete preliminary training missions to build familiarity with their unit and the terrain. This graduates into reconnaissance and ambush missions and finally into direct action over the course of the week - but there is always the possibility for the situation to be upended early on and everyone thrown, unprepared, into combat.
It's adequate to say that this happened this year. The deterioration of inter-German relations (in the backstory) led to a NATO push to secure our border town of Cottbus and evacuate its civilian populace to the airfield north across the border. This brazen advance over the border was considered not welcome, but unfortunately for us in 7 POTA camp, we were not aware of the severity of their move.
Grenztruppen (Border Troops) alerted us midday Tuesday to a NATO presence approaching the 'Pegasus' bridge, a primary avenue through our territory. Sensing that this was the spearheading unit for a potential attack on our headquarters, command called up our Mot. Shutzen section to blunt their advance.
I can't exactly recall what we were doing at the time, but I'm betting that there was someone complaining about how we'd been in the field over three days and hadn't seen any action yet, and I was probably trying to draw up motivation to run some battle drills and local patrols while we had the chance. The order came through, and within a few minutes we had our full strength loaded into the Romur. Eight AK type rifles, myself with the RPK, Jennings with the PKM, I can't recall if Shortround had the RPG (wasn't needed in this mission), we certainly had a force that would impress the hell out of your run of the mill airsofter.
The enemy, however, wasn't to be taken lightly either.
Curfman raced us down the access highway to a five-way junction that marked access to the field proper, where we dismounted our four-man security team and made tracks for the contested Pegasus bridge. Our point guard consisted of myself and three rookies - at least two of which, I've learned, had never been to any major airsoft event. Grimly acknowledging my role in the conscript horde, I put our team into a split column and moved off down the road faster than I'd like. (The driver had an itchy foot on the gas, and rushed us dismounts along.)
We got lucky, and made it the first 150m without issue, the Romur following at a reasonable 50m gap. Halfway along we made contact with a retreating Grenzer patrol (Master Chef and Komatsu) on the left side; I vaulted a low concrete pipe to glean any information from them, but learned nothing more than a vauge "They're up there." This was foreboding knowledge, but did not change our plan, so we moved on. We were approaching a split in the road, at the beginning of the 'SME Valley' which runs the length of the field, and about 80m from the bridge that we were tasked to secure. The reasonable thing to do at this point was to dismount the rest of the section, set an overwatch element at the top of the gorge with the RPK, sweep the area for contacts, and finally dig in a defensive circle and report back so the friendly units undoubtably rushing to secure our flanks would not waltz in and blast our poor conscripts.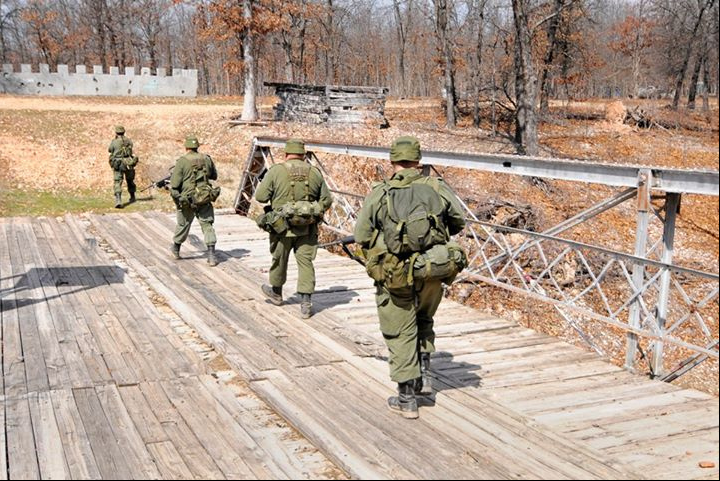 Given time and authority, that would be my course of action. I split my element into pairs tasked to each side of the fork and looked back to the Romur to see if they were still putting up the highway or in the process of dismounting. I saw nothing happening back there, so I figured we would set down, send a messenger back for reinforcements, and proceed with the previously mentioned plan. When suddenly, "Kontakt!". (Or perhaps it was "Contact!", I could not tell if they were yelling in German or English.)
Twirling right towards my partner's sector, I was immediately aware of a man in a full green uniform with scrim on his combat helmet moving left - what would be backwards, towards West Berlin. Thankful for all the time I'd spent snap shooting my G&G M14, I heaved the RPK around and let off a sustained burst while shouting some unprepared insult about dirty Canucks. There was a low wall between myself and target, so I crouched behind this and diverted my attention to getting the rest of the section into action. I had barely turned my head when a BB struck me in the neck, and down I went in the middle of the road, with Ohio cowering behind the same half-wall barely a meter away.
From other storytellers, I learned that one of the Canadians charged forward and threw a cluster of four TLSFx Pea Grenades into our scattered line. There was only one section of the Canadians this far forward, and they had decimated our advance guard with one wounded. Further back, the Grenzer pair joined up with the rest of the section as they counterattacked. A Soviet section (roughly five men) also joined the action, but were beaten back by withering fire as the Canadians patched up the wounded, hauled myself and the other three East Germans to their feet, and made tracks back into West Berlin, where we were adorned with prisoner tags and spent some time in front of a camera being pressured to tell the secrets of communism's greatness.
All in all, the Canadian unit fought off roughly 15 PACT troops and inflicted severe casualties. The loss of four Mot-Shutzen as POWs effectively removed the entire section from play until we were returned to our own camp and waited out our respawn timers. An effective play - but it also burdened down NATO transport assets moving us all the way back to their camp, and tied up their operations officer with playing Human Intelligence Collector against conscripts who had no critical intelligence to collect.
While I was initially frustrated that our advance guard was so far removed and committed to checking dangerous territory without close support, it was made clear by the amount of firepower and explosives the NATO troops fired that a full-section line attack would have resulted in equally catastrophic damage to us, likely with no survivors and a destroyed truck as well, with the probable benefit of a few more enemy wounded. Overall though, it's airsoft; we were back ingame within a few hours, and spent some time later that day working on battle drills with renewed vigor. After all, we had no intent of ever being whipped so hard again.
More to come.