Post by Stinger on Apr 22, 2014 21:19:41 GMT -5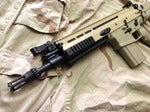 Haha, thanks

Apr 22, 2014 21:26:05 GMT -4 snarfdog said:

It seemed like most of the footage was from the perspective of the guy with the m16 with a red dot. It would've been cool if you mixed in more clips from the AK gun cam. Also in certain parts the music drowned out the actual sound, but overall the video was matched to the soundtrack pretty well. The slo mo scenes were pretty cool too.
Only two of us have M16s, and only one of the M16 guys was wearing a camera. He didn't have a red dot, he had the holo sight that got shot out.
I think that you're referring to the M4 (it is a long M4 with Noveske rails, so I can understand why you thought it was an M16). That viewpoint may have appeared most often for two reasons:
1st, that's me.

2nd, that is from my GoPro HD Hero 3 White Edition, which is arguably our best camera.
I actually had an original edit with more of the AK gun-cam video, but replaced a lot of scenes with my own for video quality purposes. Frankie's Midland XTC cameras are only 720p and...meh video quality. Sorry, maybe I'm a resolution nut, I dunno.
As for the music drowning out the rest, I guess in the future I could lower it a bit? This is the first time in the two years that I've been making these that someone has stated that they wanted to hear the actual, distinct gameplay over the music.
This is a montage, and you aren't meant to hear the gameplay as much. Maybe I'm wrong and people want to hear it. Whatever you guys prefer.
When I release the actual, full gameplay videos, I won't have music over it, so you can hear it then. This isn't really a gameplay video, more of a montage.
And sorry if you can't tell what I'm shooting at, I honestly have no way of fixing that. We were operating at extended ranges for most of the time, and when we weren't, vegetation obscured a lot of stuff. I've been experimenting with gun-camera setups to remedy this.
Vic: For montages I have never used hit markers. I actually never even thought of that. Is that something you guys want to see in montages?
I've done it before in straight-up gameplay, but I've stopped because hitcount/markers are a lot more effort. If you guys really like that, I'll start doing that again.