Post by Tank on Nov 5, 2013 10:24:38 GMT -5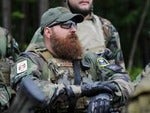 Didn't think that you did, I just wanted people reading this thread to know if a hot replica was on the field it wasn't because I allowed it.
I've wanted to comment so many times through out this thread, but I didn't want to come across like I was being defensive or trying to justify things.
What I was asked to do, and what I was allowed to do were two different things. I can at least proudly say that I did everything in my power to make the event go well, and what ended up happening was well out of my control.
I think the field has potential, but until the rules are enforced on a consistent basis, and the mentality of some of the regulars ( I saw this when I was working out there as well) is changed, it's not an enjoyable venue.
There are locations I refuse to go to because of the very same things, and it's sad. I understand it's a business and you need to somewhat cater to your clientele, but when you put people's safety at risk it's not worth it.
I believe I speak for everyone here when I say that none of us blame you for anything that happened. The only fun that was to be had that night, was when you were actually allowed to run the games. When Sam poked his noise in, everything went to hell. I also saw you turning people away, as you indicated. Sam was right there with his regulars, telling them how to circumvent the chrono (I witnessed this first hand and was dumbfounded).
I understand that he is trying to keep his regulars happy and let them shoot guns that he likely sold them, but it is NEVER ok to do this when it puts other peoples' safety at risk. One day he will learn this the hard way. Waivers don't mean crap to a lawyer, especially when the stated safety rules are circumvented by the company itself.
The field itself was decent. Pagan, if you are allowed to run a private game there, I would attend.
Honestly, I'd like to see a real zombie game run outside, with limited ammo. More limited than what we were allowed at this game. I'm talking something in the lines of survivors with just a couple pistol magazines of ammo. Then they have to make their way to their ammo cache with what limited ammo they have. After that, possibly need to locate an antidote. It would be shorter rec style games. Maybe have teams of 5 to 10 playing as survivors, then have 5 times that amount as zombies, and keep switching it around till every team has run through it. Then move on to some other regular rec games. I think run properly, a zombie game has a lot of potential, but not a hole night worth.