Post by Connors on Sept 29, 2012 18:38:59 GMT -5
My old school M14 got a modern day upgrade with some new external furniture.
I have new glass, but no rings to put it on, so that will have to wait till I can get some mount rings.
Before anyone says anything about the indoors aspect of my pictures, I must first explain this. I only get about 3 and a half hours of "daylight" from sunrise to sunset this time of the year where I live in Alaska, and on top of that, It rains roughly 300 days out of the year, so as you can probably imagine, natural light is not a luxury I have very much of this time of the year.
Now, without further Adeu, I invite ya'll to enjoy some pictures.

Tokyo Marui MK 14
G&P MK14 MOD 0 Bolt cover and outer barrel assembly.
G&G RIS
Unknown brand 350mm can (filled with evil noise eliminating materials)
Vism 6x42 scope not pictured still waiting on mount rings.
Unknown brand harris bi-pod from the gun shop.
Guarder FTK with standard ratio gears.
PDI 210% spring
Guarder Infinate torque motor
All stock hop-up and stock barrel still.
Even with the short outer barrel assembly, I can use the MK14 MOD0 flash hider and it still covers the full length inner barrel. The shorter outer barrel did take some minor mods to reassemble all the parts. The guide for the charging handle needed a hole to be drilled for it to be reinstalled on the new outer barrel, which was no hassle, just took some time and patience to get it centered and in the right spot.
before:
After:
Massive can is still massive..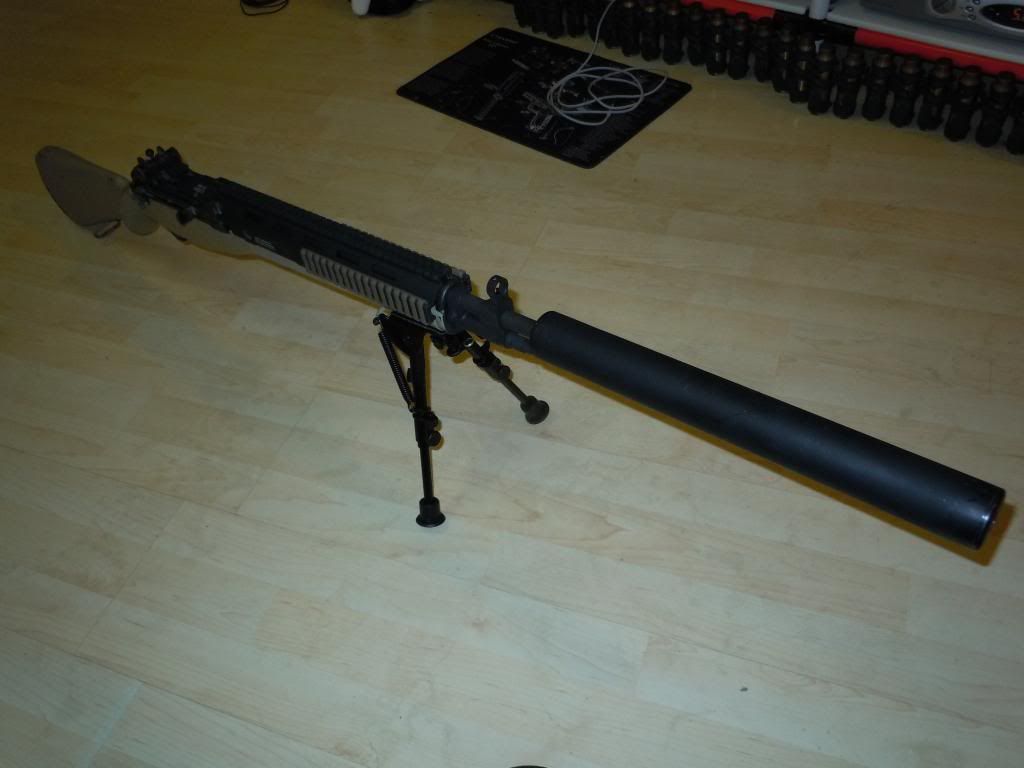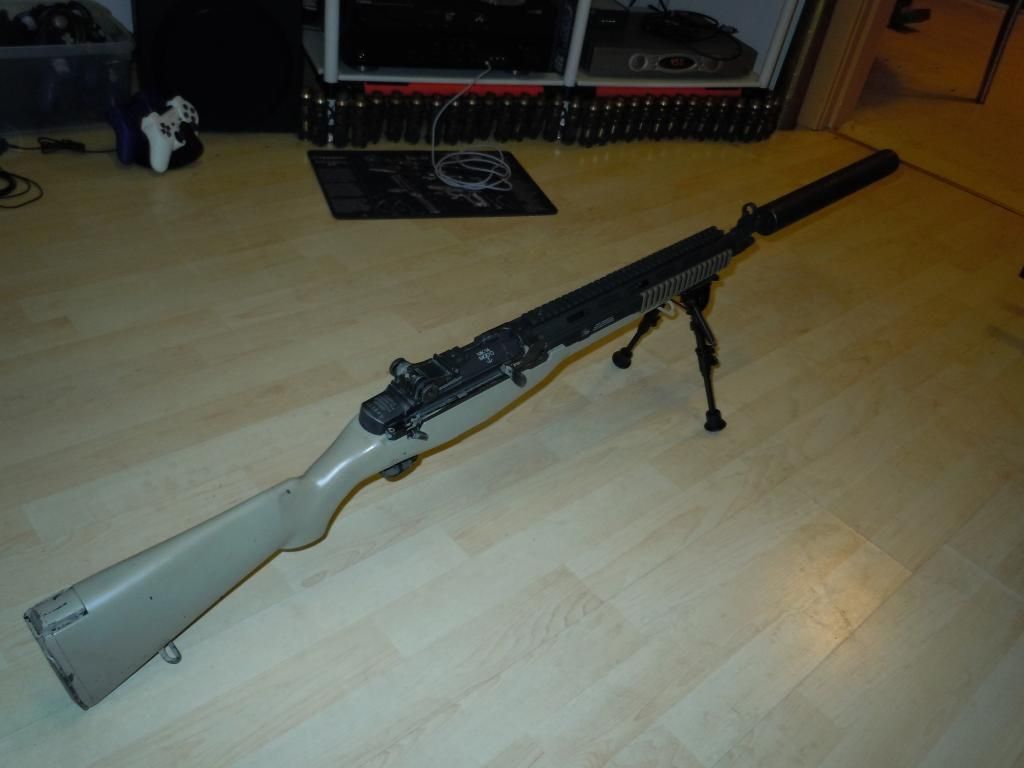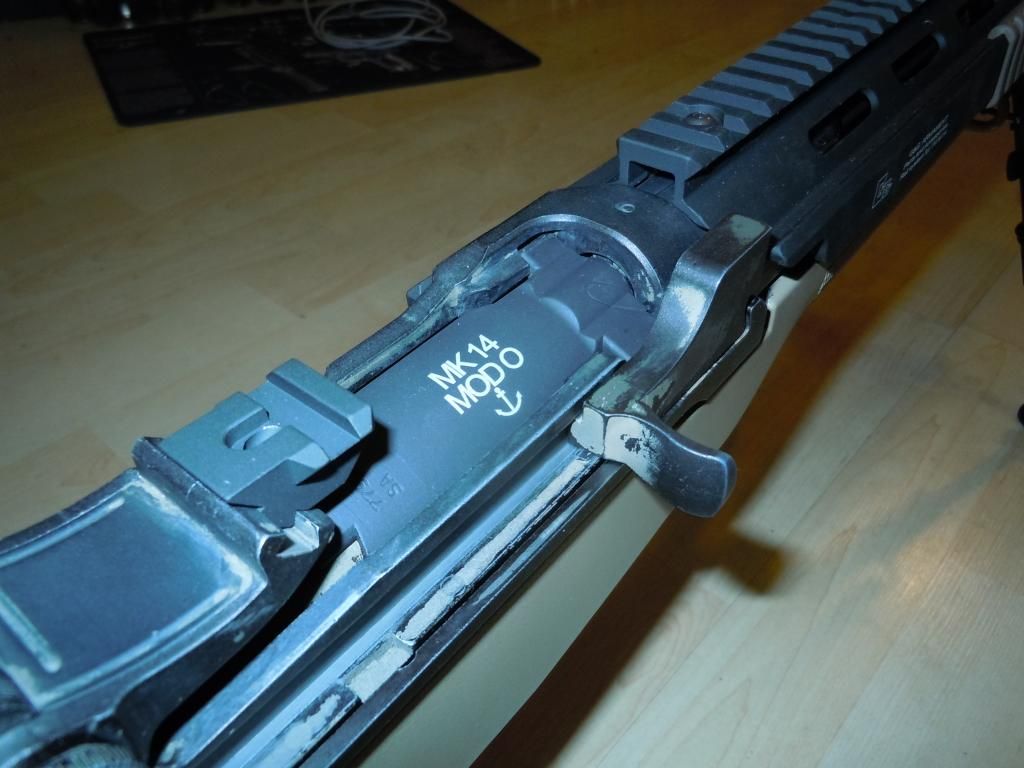 Heavily worn from 6 years of use, but still a rarely seen sight of intact trades on a Marui M14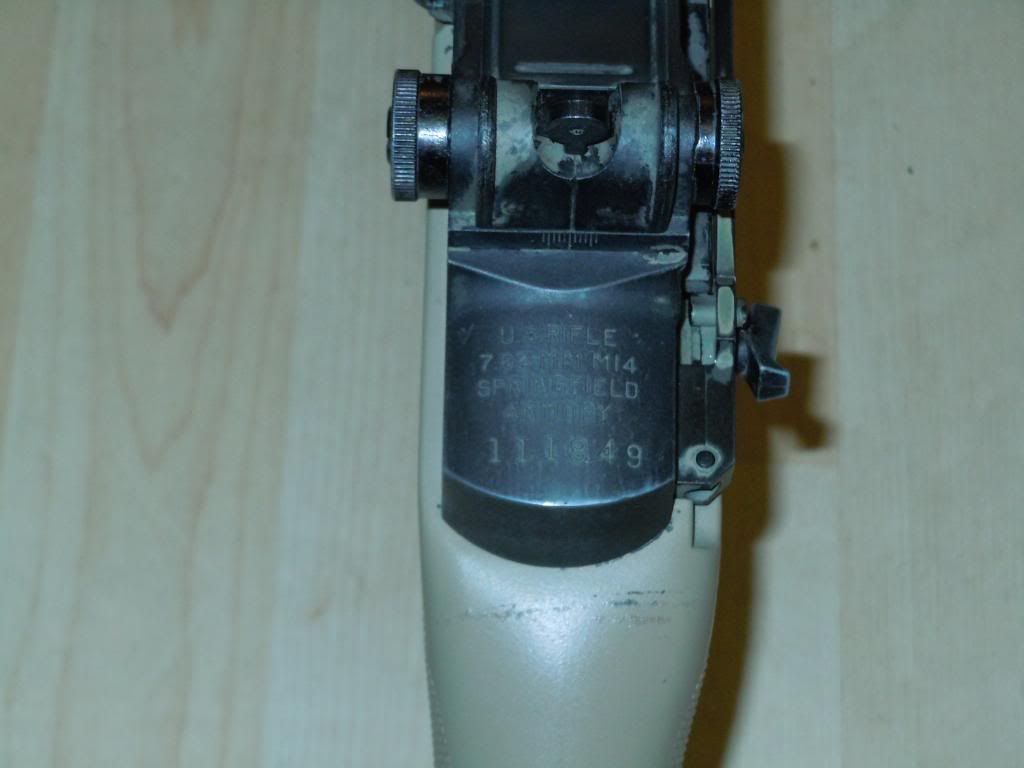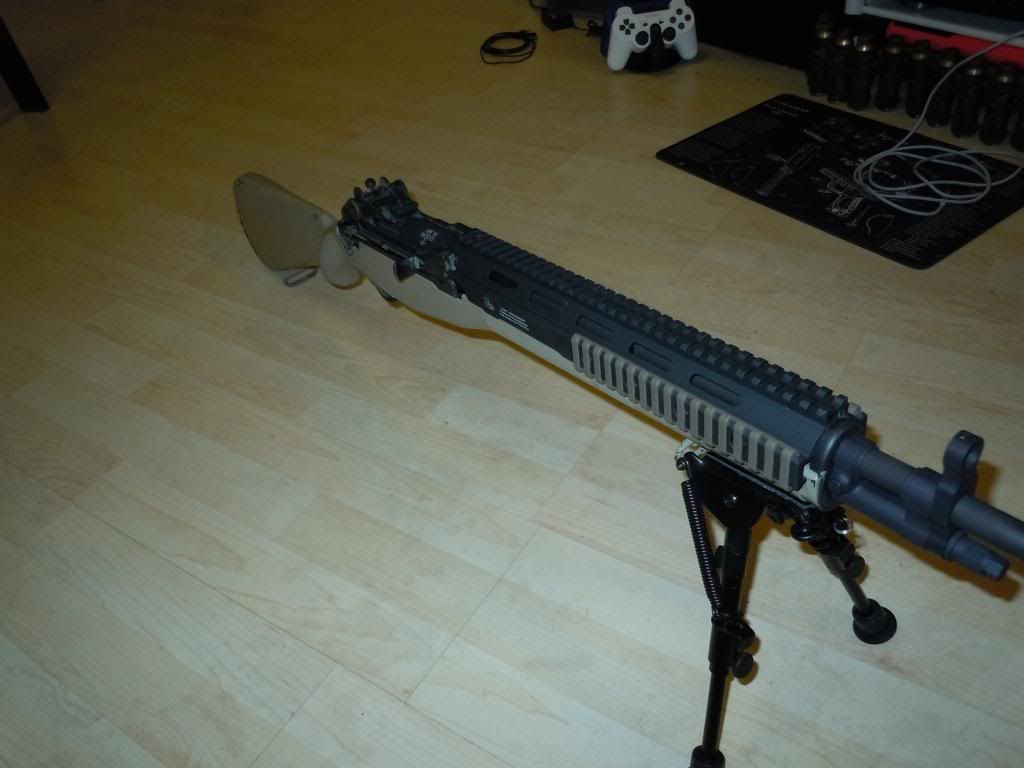 G&P MK18
Ditched the PEQ and rear wired it since the last picture session.
G&P Magpul MOE CQB
G&P R/G dot Aimpoint
Venom Tech can. Hollow and empty inside, but there is space to add sound reducing stuff.
Socom gear Daniel Defense MK18 Lite rail
Magpul FDE Rail covers
Magpul AFG
Magpul Gen1 rear BUIS
Replica Troy front sight
Surefire G2
Internally, she's bone stock for now.
Before: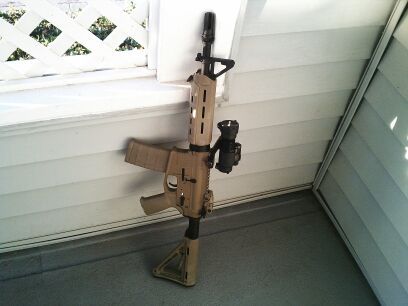 After: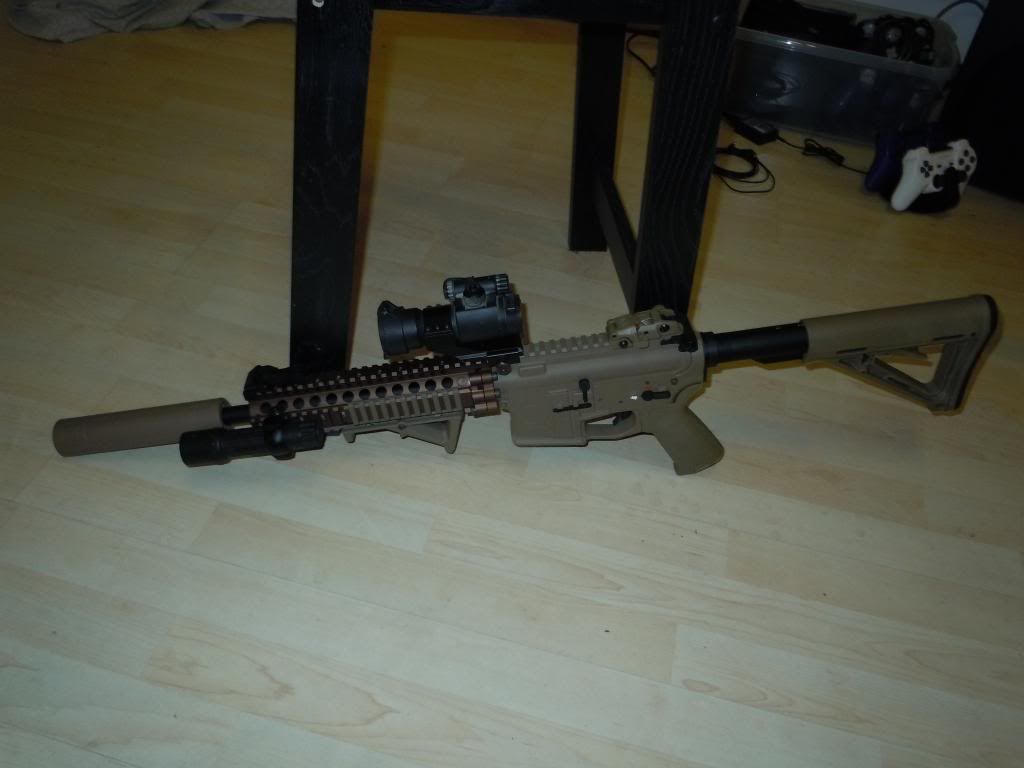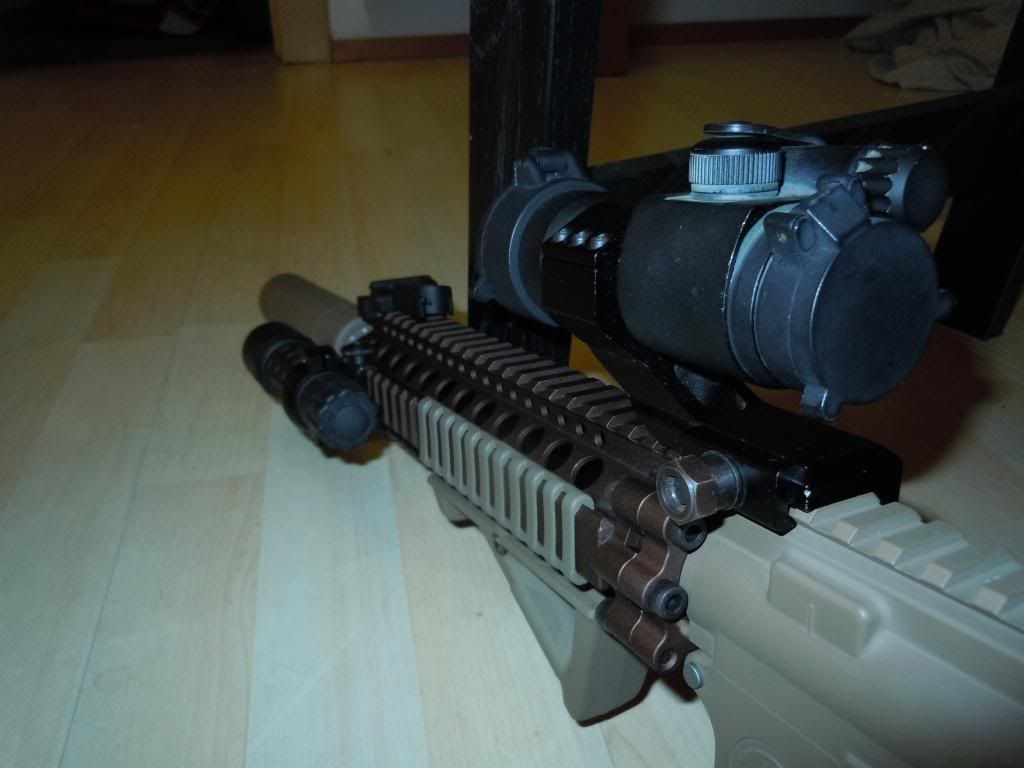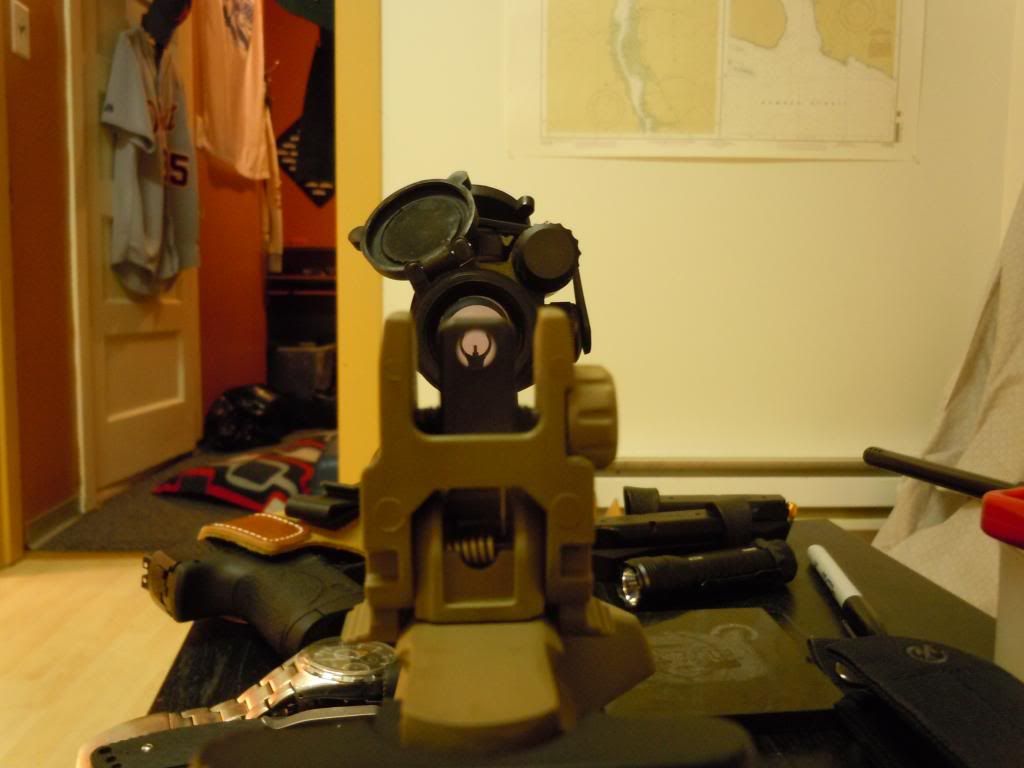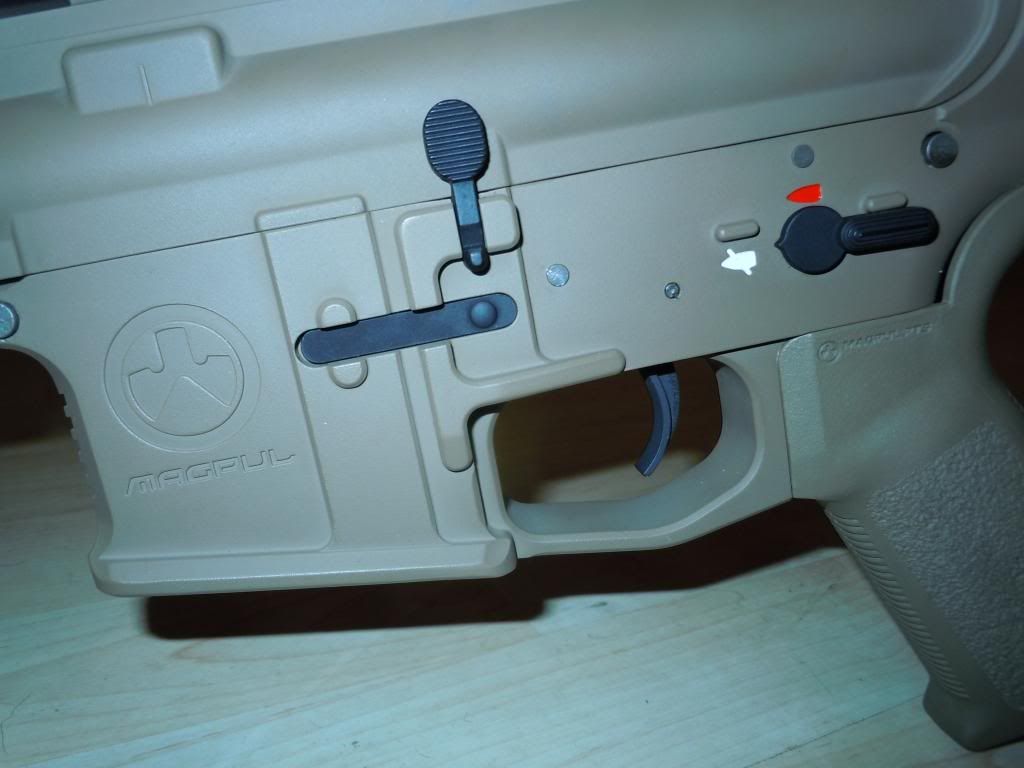 Other than the "Made in Hong Kong", the trades are pretty nice.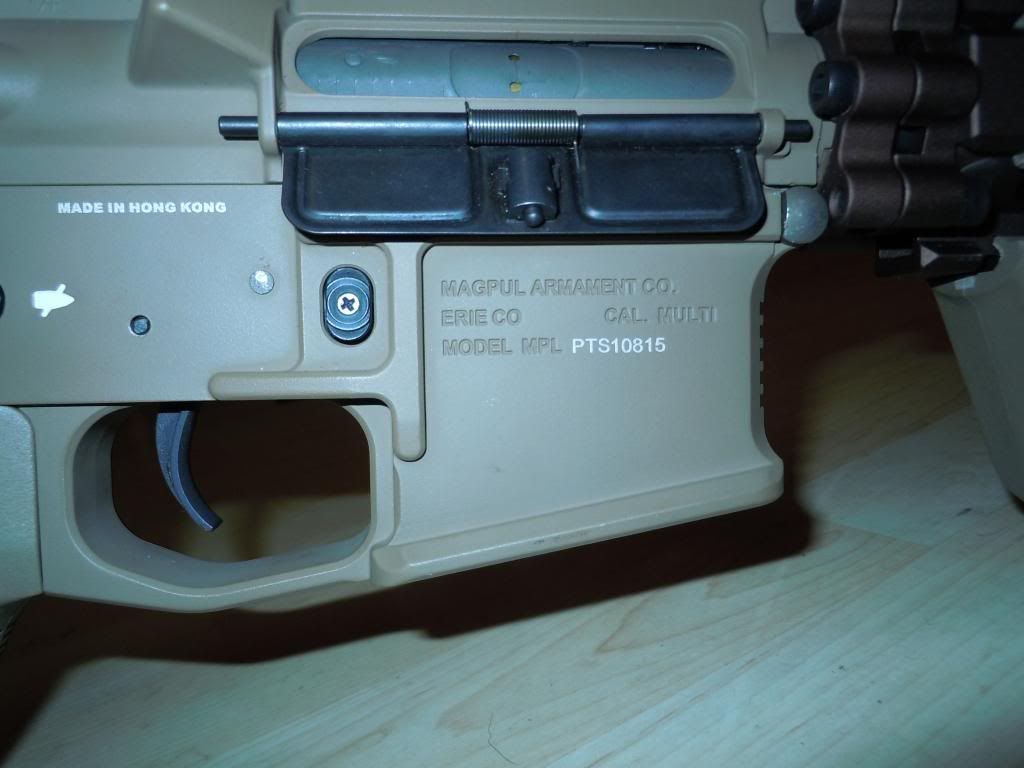 Plane Jane TM P90.
Nothing exciting about her other than that's it's a beastly bb hose.
Internally it's mostly stock, save a Guarder High speed motor, Mad Bull tightbore and a PDI (I can't remember what % spring) Last I recall, she chrono'ed right at 330.
Marui's mock suppressor for the P90, WITH trades.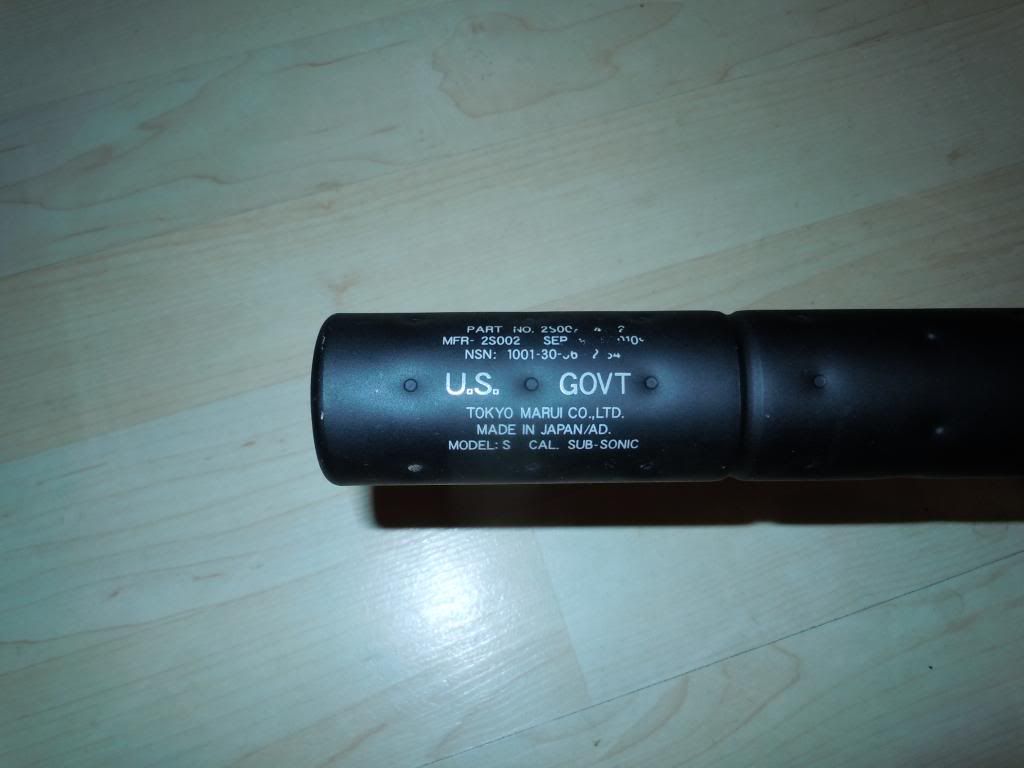 Last but not least, My gas guzzlers.
KWA MP9 (TMP). still stock adn a Danger Werx threaded adapter on the way. This thing rips on full auto. Definitely a hand full of fun. It came with a stock too, but I took it out of the equation.
SOCOM gear Wilson Combat CQB 1911. This one I believe was the first in Michigan. I bout it right at the time it came out and walked out the door of Spy Ops with it the day it came in. Just added a 9-Ball threaded barrel and a mock suppressor. She still shoots strong and runs like a tank.