Post by Ratchet on Dec 14, 2011 21:41:54 GMT -5
Hi guys! I'm back with another WWII impressions guide, but instead of a German kit I did an American Marine impression. The reason I went with a Marine impression is because I'm in the process of making one for myself for airsoft. If you have any questions about Marine or German Wehrmacht kits feel free to ask me!
Link to my German Wehrmacht Guide if you want to check that out too:
miairsoft.proboards.com/index.cgi?board=impressions&action=display&thread=38707
This guide is for WWII reenacting and airsoft purposes. Creating WW2 uniforms kits should be done the right way or not at all. Sorry if it sounds harsh, but WWII impressions are very detailed kits.
Remember that this is simply a guide. You should do your own research when making a kit/ impression like this.
This is also JUST covering an EM kit, and not NCO's. Officers or special units such as Raiders (even though they were very similar in appearance). Now that I've said that here we go..
Table of Contents
1.
References
2.
Uniforms
- Jackets
- Pants
- Camouflage
3.
Headgear
- M1 Pot Helmet
- USMC Helmet Cover
4.
Field Gear
- Required
- Optional
5. Weapons
- Rifles
- Submachine Guns
- Pistols
6. Footwear
- Boondockers
- Leggings/ Gaiters
7. Original Photos
References
- At the Front
www.atthefront.com/
- Hikishop
hikishop.net/
- Original Pictures from WW2 in Color
www.ww2incolor.com/german/?g2_page=43
- Some original photos are from my own personal collection and from the book "Pacific Warriors".
- A few screenshots of "The Pacific" by HBO
Marine Corps- Pacific Theatre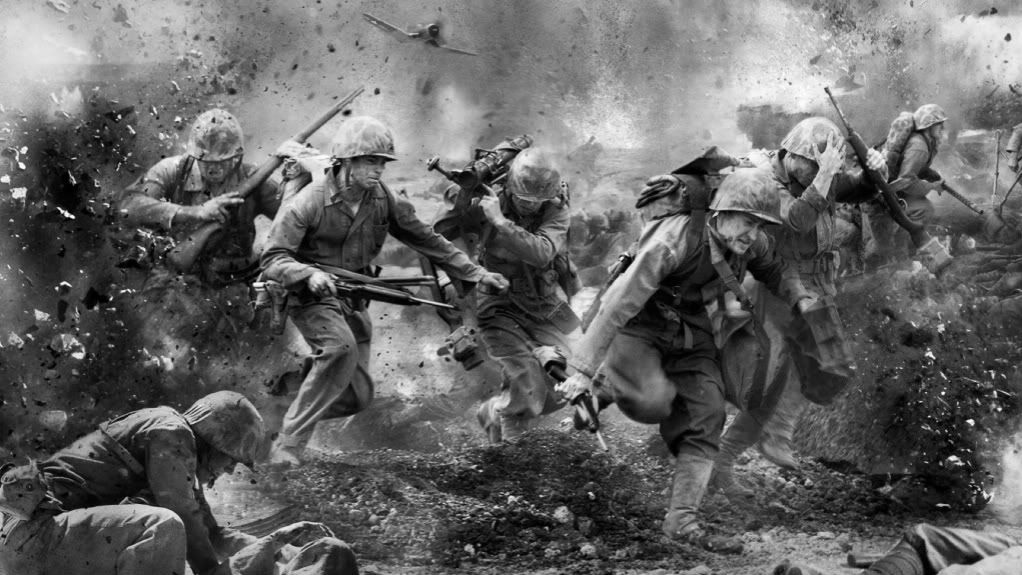 Uniforms
Jacket
P41 Utility Jacket
These jackets were issued to every Marine from 1941 through 1945. This jacket is a necessity unless you decide to wear the P42 (discussed later). The P41 utility jacket is the most genetic jacket, but is the most effective for an accurate kit.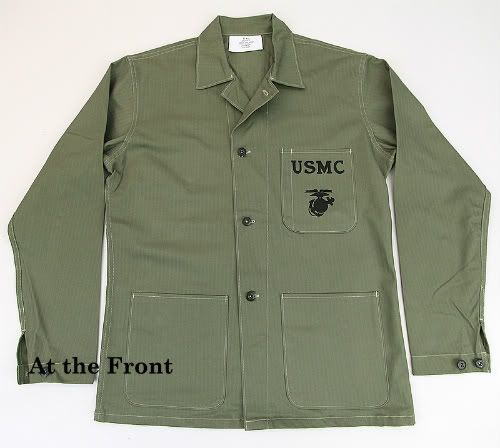 M1941 Field Jacket
These were more commonly seen in the Army supply depots, but the Marines used them too. They, from what I understand, were first issued out after 1942, but I can't give an exact date as to when they were first issued to Marines.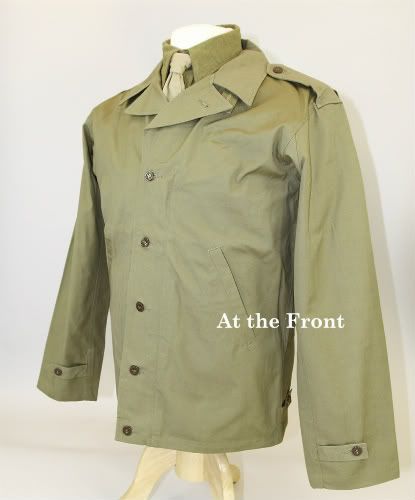 Pants
P41 Utility Pants
These pants obviously went with the P41 Utility Jacket.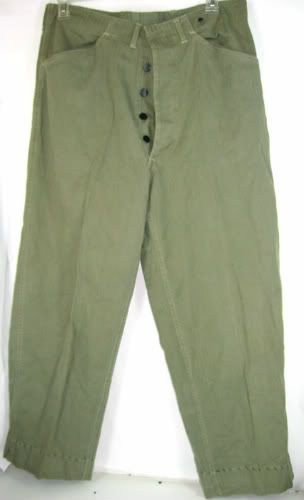 Camouflage
P42 Uniform
The P42 Uniform's build was the same as the P41 Uniform. Both were made from the HBT material.These were issued between 1942 and very late 1943. These were mostly issued, though, around the Battle of Tarawa, which occurred in November of 1943. The P42 was phased out fairly quickly among combat soldiers, but were often mixed with P41 Utilities.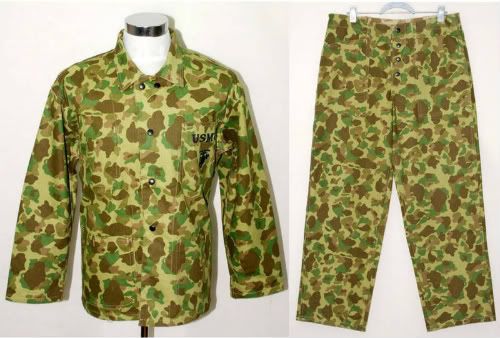 Headgear
M1 "Pot" Helmet
I'm sure all of you have seen an M1 at least once in military pictures. It was used through WWII- Vietnam. ALL Marines were issued an M1 helmet (obviously). When selecting a helmet to use make sure that the liner is WWII dated and the chinstraps are khaki colored. I believe the Marines wore both the "swivel bale" and "fixed bale" helmets.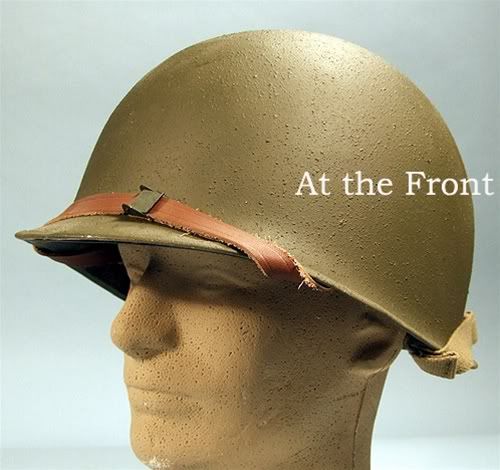 USMC Helmet Cover
Also, starting in 1943 the Marines were issued P42 pattern helmet covers. 99% of all photos from 1943-1945 show Marines using their helmet covers. So if you're making an impression within the 1943-1945 time period a helmet cover is a must.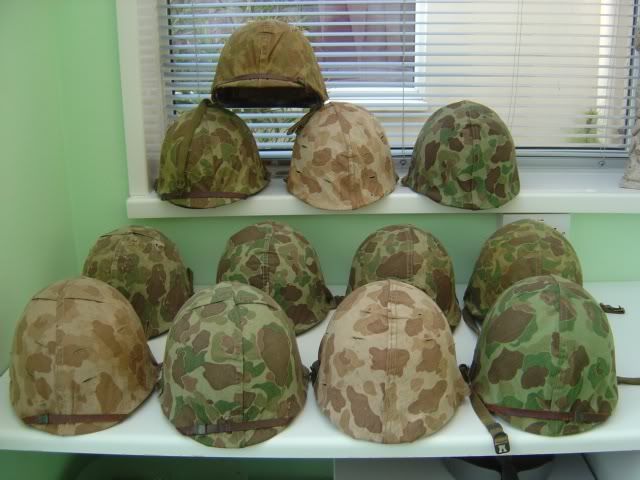 Field Gear
Required Field GearBelts
The Marines during the Second World War used a variety of belts. The belts included:
M1936 Pistol Belt (U.S. or USMC marked)
Generally worn by Marines using machine guns, submachine guns (Thompsons or Reisings), soldiers who were issued M1 Carbines, or specialized troops. They were equipped to the user's preference. DO NOT USE POST WAR PISTOL BELTS. Post war belts are OD and will ruin your impression.
Here's an example of a Pistol belt setup for an M1 Carbine.
If you're wearing a pistol belt and using a Thompson you should use the 5-Cell pouch.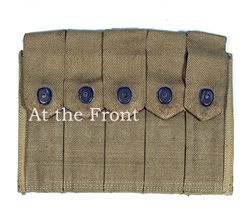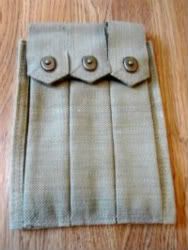 M1923 Cartridge Belt
These were solely issued to Marines who carried M1 Garands and M1903 Springfields.
These will only fit Garand and Springfield clips (yes clips, not magazines)!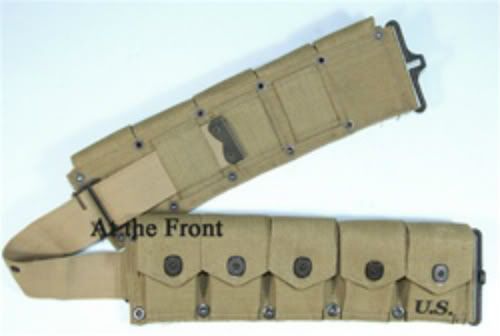 BAR Magazine Belt
These were (like the names states) issued to BAR machine gunners. These belts were able to house twelve 20rd. magazines.

M1491 Suspenders
These suspenders were another unique "USMC" piece of gear. Unlike the Army's M1936 suspenders the M1941 "USMC"'s were two pieces. They attached the same way as M1936's, and should ALWAYS be worn with you impression. You should also wear them because, well, they hold up all of your equipment.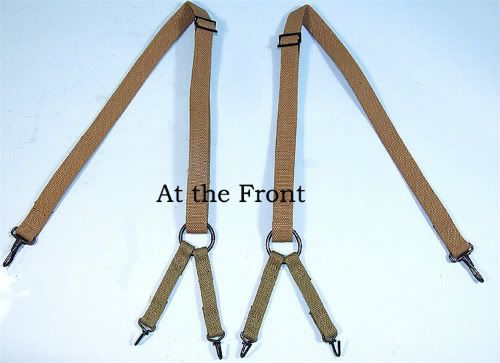 First Aid
Nearly every Marine carried 2 pouches that were designated first aid pouches. They included:
Jungle First Aid Pouch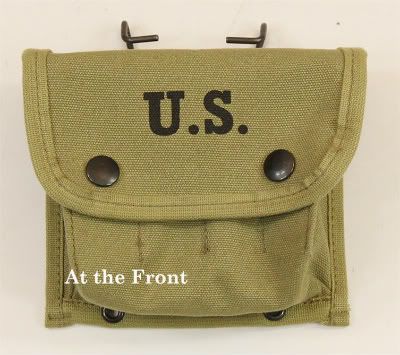 M1910 OR M1924
M1910 F.A.'s were issued pre-war and a little of the beginning, but were later replaced by the M1924 which is more common to see. However, M1910's have been seen throughout the war. The 1924 and 1910 pouches were hooked onto the lower loops of the Jungle Pouch.
M1910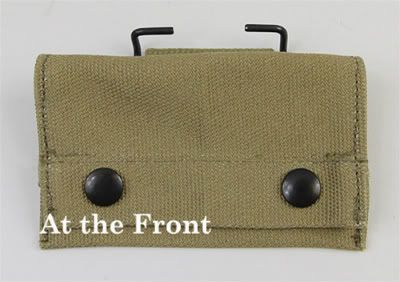 M1924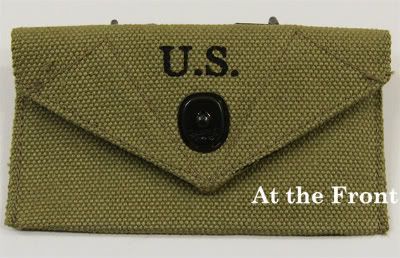 Canteens
Like the first aid pouches Marines carried either 1 or 2 canteens. The pictures below show the "Crossed" Pattern and 1st Pattern canteen covers that I've seen a lot of on Marines. When it comes to the canteens themselves I highly recommend full metal canteens and not the enameled material canteens. Enameled canteens were experimental canteens, but were never mass produced so go with the aluminum canteens.
"Crossed" Pattern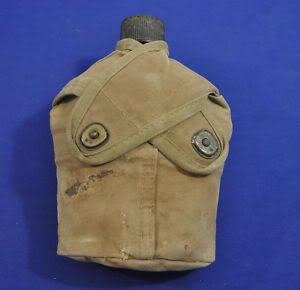 1st Pattern
Optional Field Gear
Many optional pieces of equipment were housed on/ in the M1941 Haversack. If the item was arranged on the haversack I will specify.
USMC M1941 "782" Haversack
The M1941 haversack is one of the MOST IMPORTANT pieces of any Marine impression. Most Marines carried these into combat, and it held other equipment that was useful during a battle.
As you can see in this photo I have circled the clearest M1941 Haversack, but if you look around all of the Marines are equipped with their own haversack. This is listed as optional because over the years they slowly started to ditch them.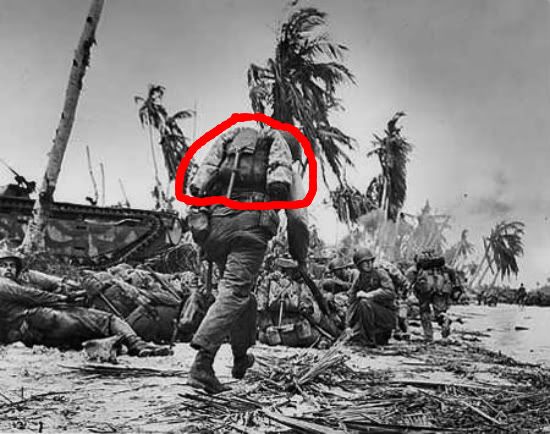 Entrenching Tool w/ Carrier- Equipped on Haversack
A lot of Marines carried E-tools (shovels) with them during combat for obvious reasons. From what I understand the only E-tool that was issued to Marines was the M1910 and matching E-tool Carrier (of the same name). Although, the M1943 E-tool and Carrier could have slipped into the supplies over time.
USMC Half- Shelter - Equipped on Haversack
The half- shelter was placed around the M1941 Haversack. Do NOT get post war shelters because they have different patterns. It was tied on with 3 utility straps as you can see in the picture below.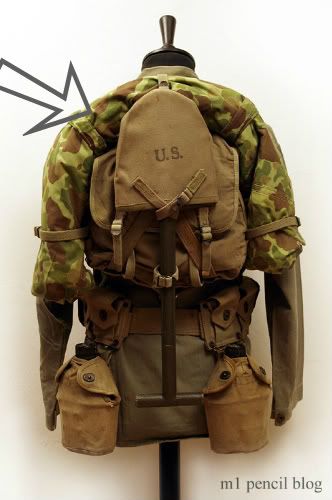 Weapons
Rifles
M1903 Springfield
The Springfield was issued to Marines before WWII, and were continued to be issued through 1941-1942. However, it was phased out by the M1 Garand. There's currently only 1 company that makes the Springfield that I know of, and that's ShootnScoot located in the United Kingdom.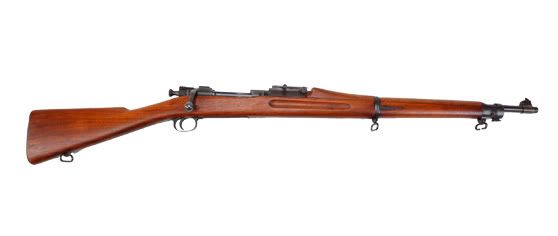 M1 Garand
Airsoft manufacturers: Marushin (Gas Blowback) and (soon to be) ICS (AEG)
M1 Carbine
The Marine Corps only used the full stock carbine. The folding stock version were
only for Paratroopers
both Army and Marines.

Submachine Guns
M50 Reising
A short lived submachine gun in the WWII era. It was quickly replaced by the Thompson.
No airsoft replicas.
M1928 Thompson
Yes, this is the Thompson that the gangsters of Chicago and New York used in the cliche 1920-1930's movies. The M1928 was used in the early stages of the Pacific Theatre. It was replaced by the M1A1 Thompson.
Airsoft Manufacturers: King Arms, CYMA, Cybergun
Classic M1928 "Typewriter"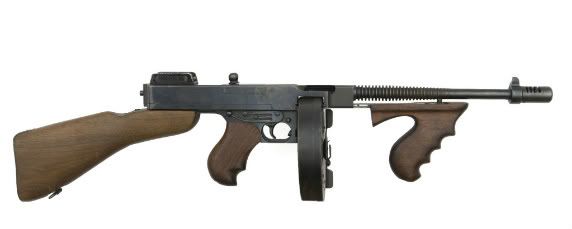 Updated M1928 with stick magazine

M1A1 Thompson
This is another classic weapon in the American armament. In the Pacific Theatre Marines were issued the 20rd. magazines more often than the 30rd. magazines.
Airsoft Manufacturer: King Arms, CYMA, Cybergun, Tokyo Marui
M1A1 with 20rd. magazine

Pistol
Colt M1911a1
Of course the standard issue pistol of the Marine Corps was the Colt M1911a1. It's pretty self explanatory.
Airsoft Manufacturer: A LOT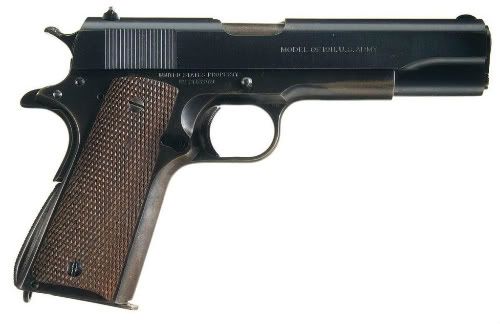 M1911a1 holsters
The Marines only issued sidearms to Mortarmen, Vehicle crew, NCO's , Commissioned officers, special soldiers, etc. I believe higher ranks personal wore the should holsters.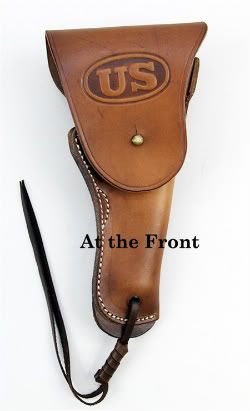 Footwear
USMC Boondockers
Boondockers were the standard issue boots in the USMC during the Second World War.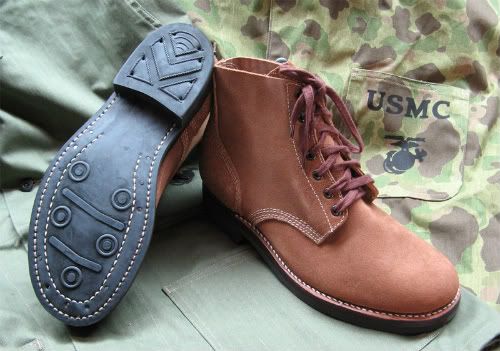 USMC Leggings
These were issued to every Marine, and were wore all the time throughout the war. Towards the end of the war soldiers sometimes didn't wear them. They were worn both over the boot and the pants. They are different from the Army's M1938 leggings because the USMC version has a more golden color to it and has 6 hooks instead of the 8 that the M1938's have.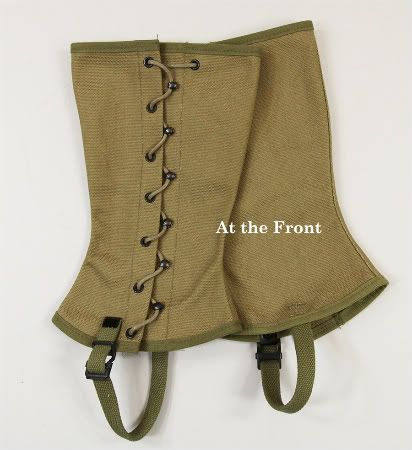 Orignial/ reference Photos