Post by Ratchet on Jun 4, 2011 1:33:13 GMT -5
This is a guide for German Wehrmacht impression. Since Phantom G3 already made a guide for WW2 US Army impressions I thought that I'd provide the German counterpart's guide.
This guide, like Phantom's, is mostly for WW2 reenacting and airsoft purposes. Creating WW2 uniforms can be really fun and a learning process. Remember that this is simply a guide. When doing research come up with a uniform that suits you and go with it.
I will only cover the uniforms of enlisted men and NCO's. Any commission officers- General Officers will not be covered. That'd be for another guide!
Keep in mind that these uniforms may have Swastikas. They should only be used for reenacting, educational, or display purposes only, and should not be used in inappropriate matters.
Table of Contents1.
References
2
. Uniforms
- Tunics
- Trousers
3.
Headgear
- Stahlhelms
- Ski Caps
- Overseas Caps
4.
Field Gear
- Required Field Gear
- Optional Field Gear
5.
Weapons
- Rifles (Bolt Action)
- Rifles (Semi Automatic)
- Rifles (Semi and Full Automatic)
6.
Insignias
- Waffenfarbe colors
- Shoulder boards
- Helmet decals
- Collar tabs
- Breast Eagle
7.
Foot Gear
- Marschstiefels (Jackboots)
- Schnürschuhe (Ankle boots)
8.
Original Photos
References
- At the Front
www.atthefront.com/
- Hikishop
hikishop.net/
- Original Pictures from WW2 in Color
www.ww2incolor.com/german/?g2_page=43
Wehrmacht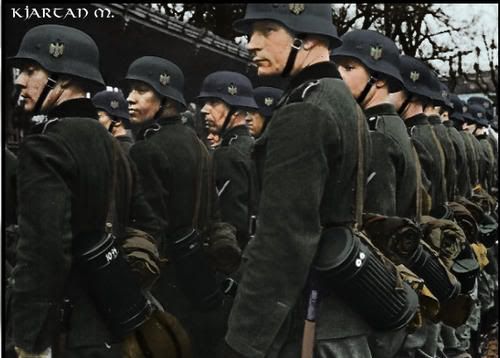 Uniforms
Tunics and Distinctive Traits
The Wehrmacht adopted a few different tunics. Each would downgrade as the war progressed. This was mostly due to the shortage of resources. Never have a tunic that can out after the period of the war that you're portraying. (Example: If you have an early-war impression don't have an M43 tunic.)
M36
Preferred tunic for pre war- late war impressions.
Distinctive Trait: Bottle Green Collar
M40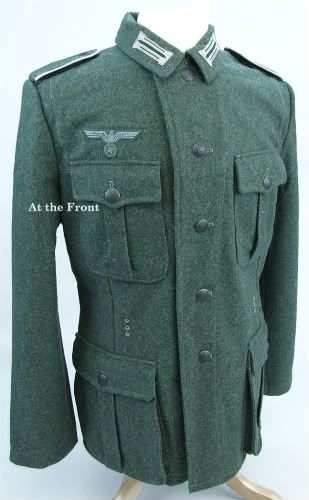 Good tunic for early war-late war impressions.
Distinctive Trait: No Bottle Green Collar
(Some M40's had old M36 green collars sewn over the M40's collar. VERY HARD TO FIND.)
M42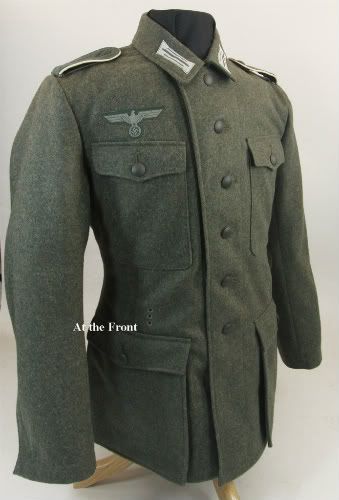 Good tunic for early war-late war impressions.
Distinctive Trait: Pleats from pockets were removed.
M43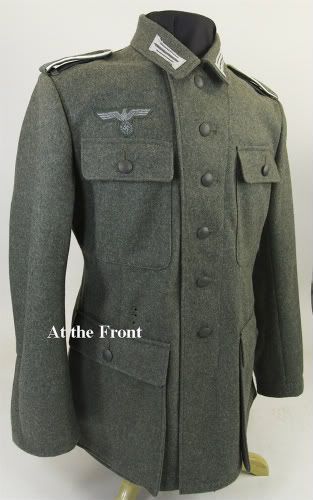 Good tunic for mid war-late war impressions.
Distinctive Trait: Pleats from pockets were removed, simplified (or omitted) version internal suspension system
M44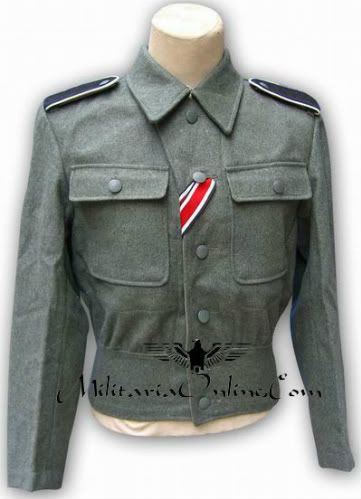 Good tunic for late war impressions.
Distinctive Trait: Tunic ended at the waist level and internal belt was added.
Trousers
There were only 3 main models of trousers that were produced during the Second World War.
M37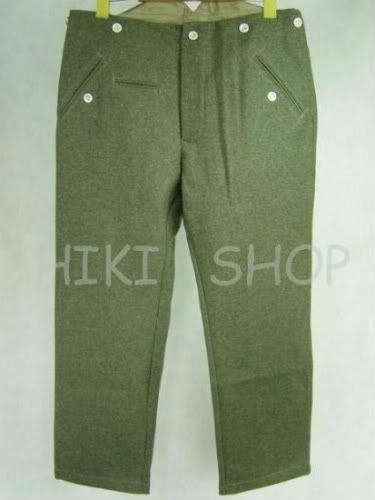 M40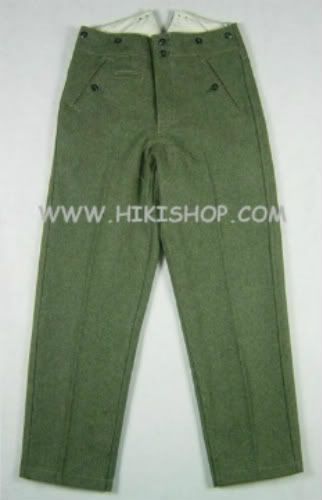 M43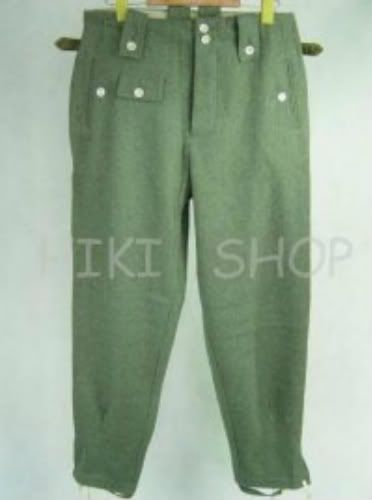 Headgear
The Wehrmacht wore a variety of different forms of headgear.
Stahlhelm
The Wehrmacht adopted various verisons of the stahlhelm. Some of these variants are hardly noticeable.
M35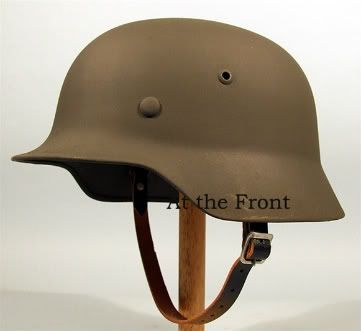 Good stahlhelms for pre to late war impressions.
M40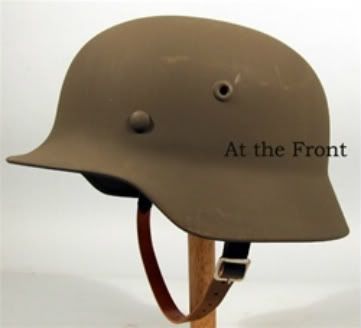 Good stahlhelms for early-late war impressions.
M42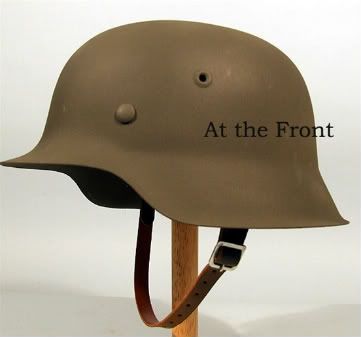 Good stahlhems for mid-late war impressions.
M44
No pic available
M45
No pic available
M43 Ski Caps
An alternative to wearing helmets is the option to wear a ski cap. These were very popular. There was really only one style available: the M43. The M43 was used by all branches of the Third Reich, not just Wehrmacht. The M43 ski cap replaced the M38 Cap.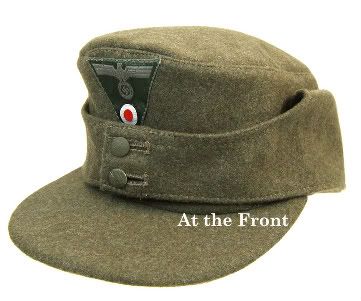 M38 Overseas Cap
A third alternative is the M38 Overseas Cap. It was issued out to every soldier until 1943.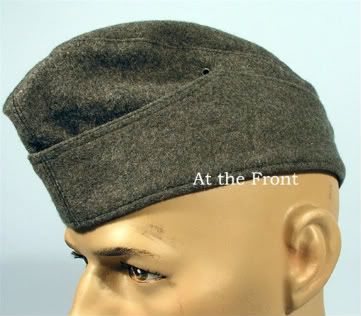 Fieldgear
There were a lot of different versions of German field gear. One thing to keep in mind when looking for field gear is that more times than not post war or variants from different countries won't be the authentic stuff.
Required Field Gear
Belts and Buckles
Probably two of the most important pieces of your kit. I mean..they hold everything up!
A normal Wehrmacht soldier would've had a black leather belt.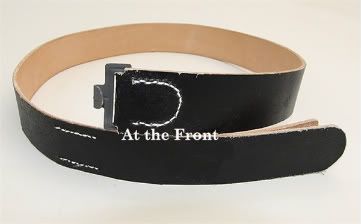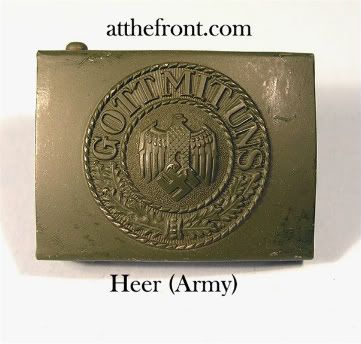 Ammunition Pouches
K98k Pouches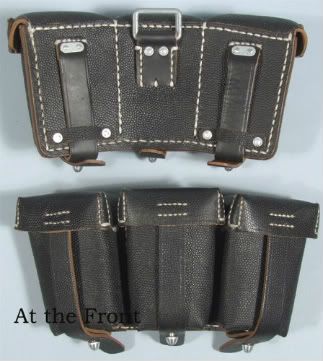 MP40 Pouches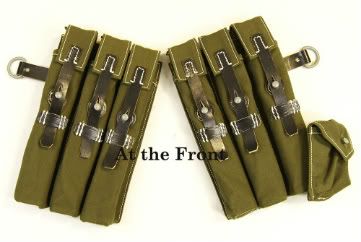 STG44 Pouches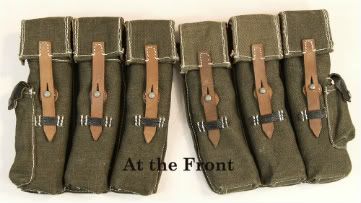 G43 Pouches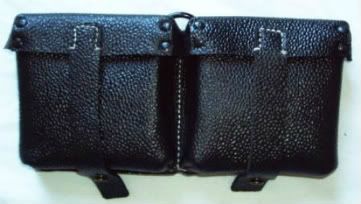 Y-Straps
When purchasing Y-Straps do not buy Light Y-Straps. Buy Heavy Y-Straps. Light Y-Straps were used by Fallchirmjager.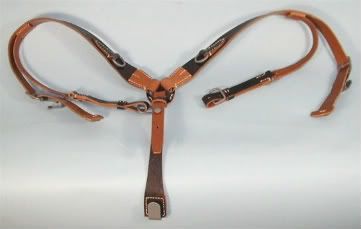 Breadbags
Breadbags are like the tunics. There were 4 different types of breadbags that were produced throughout the war. I'll give a link so that you can do your own research on them:
www.atthefront.com/HR/g/gear_breadbags.html
The breadbag shown here is an M31.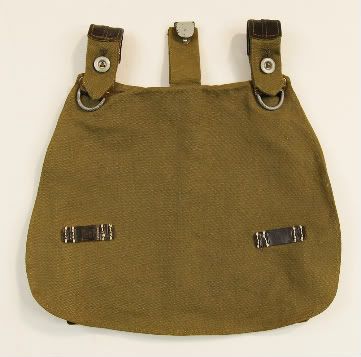 Gas Mask Canister
Gas masks are one of a German soldier's "signature piece". It is important to have one of these if a frontline soldier...in fact no matter what your role is you should have one of these.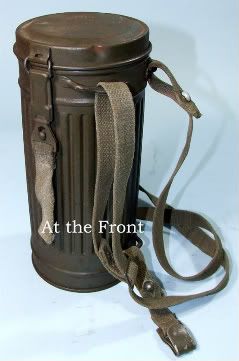 Canteen and Mess Kit
These two items can get pricey, but if you know where to get them they can come at a fair price. Also, don't get post war/ East German canteens. With the mess kits, it'd be a good idea to get an equipment strap to go around it. It's more authentic.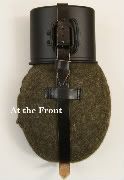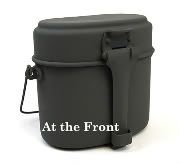 Gaiters
These are wore around the ankles if your impression has low boots.. if you have jackboots you don't need these.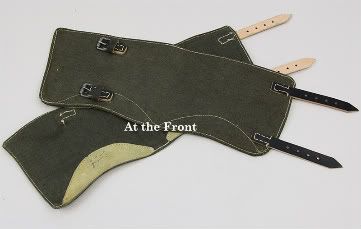 OPTIONAL Field Gear
E-Tool and Carrier
When getting an E-tool you can choose from a standard (fixed handle) or folding. The carrier of the tool should be black (not brown like in the photo). There's a special carrier for folded E-tools.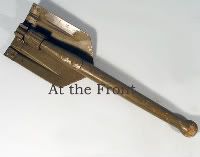 A-Frame w/ A-Bag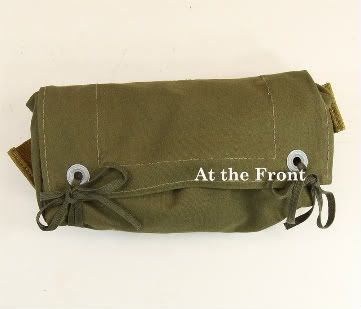 Zeltbahn
This is a one of the Wehrmacht's only forms of camouflage. This was mainly a shelter piece, but could be worn as a poncho/ camouflage smock. A nifty piece of fabric!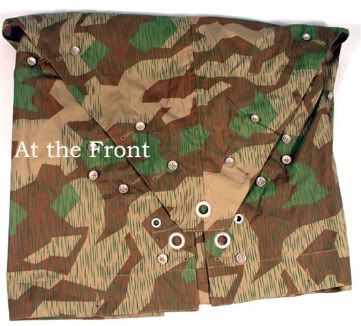 Rucksack
This last piece of optional gear is mostly directed towards the Gebirgsjäger units. Since they were Mountain Troops they had a lot of supplies to carry around. So they were issued a special rucksack to hold EVERYTHING.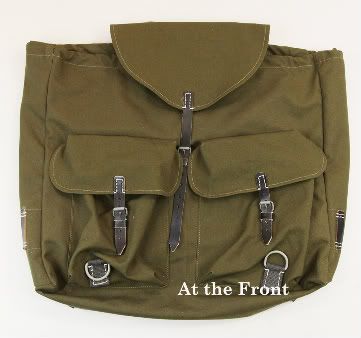 Weapons
During World War 2 the Germans (for the most part) didn't have Assault rifles, they didn't have RIS, 1,000,000 different accessories (exaggeration) to choose from for their guns. The weapons that were the most common on the battlefield were the following.
Rifles (Bolt Action)
Karabiner 98 Kurz (K98k)
The K98k was the most common weapon that was used by soldiers during WW2. It was issued to mostly privates. The K98k, unfortunately, is a very rare replica in airsoft. As of now only 2 manufacturers make it in large quantities: Tanaka and Dboys.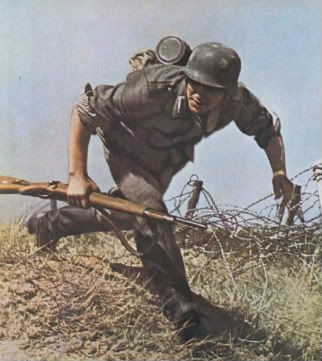 Rifles (Semi Automatic)
Gewehr 43 (G43)
This semi- automatic rifle was the improved version of the G41, a rifle that failed miserably. The G43 was first issued in 1943 so it's a good rifle for mid to late war impressions. These rifles were fairly rare. Only about 402,713 were made from '39- 45. As far as I'm aware there are no airsoft replicas in production. However, with enough modifications I'm sure you could make one.

Here's an NCO with a G43.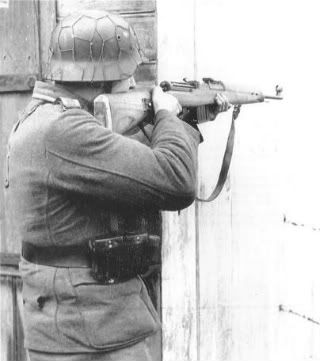 Rifles (Semi and Full Automatic)
Sturmgewehr 44 (STG44)
The World's first Assault Rifle. This rifle was first issued out in October of 1943. This rifle was never a favorite of Hitler. He shut down the program for awhile. The military disobeyed Hitler and continued to manufacture it. When Hitler restarted the program his nicknamed the gun the Sturmgewehr, or Storm Rifle. The STGG44 underwent a lot of experiments and a lot of different versions were tested. If you decide to carry an STG44 you'll most likely want to do a mid to late war impression. The only company that mass produces STG44's is AGM.
A picture with a few experimental varients. The 2nd from the top is the original rifle.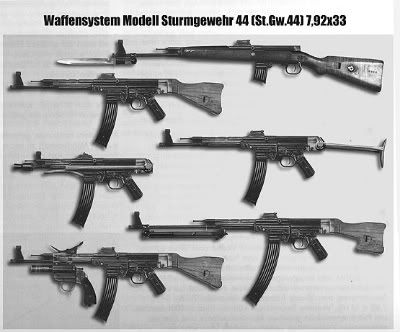 This is a picture of soldiers in the Ardennes with STG44's.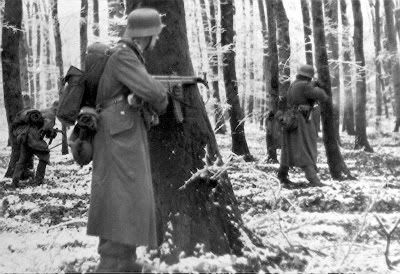 Submachine Guns
MP38/MP40
The MP38 and MP40 were mostly issued to tank crews, squad leader/ NCO's, paratroopers, and other "specialty" troops. They were very rare to see privates using MP40's. There are also two main manufacturers that make MP40 AEG's. They are SRC and AGM. They are very common on the airsoft battlefield.
German soldiers with MP40's.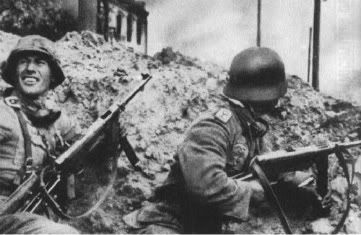 MP41
The MP41 was basically an MP40, but with a wood stock. These can easily be made using AGM MP40's with some modifications.

Machine Guns
MG34 and MG42
The MG34 and MG42 were the German military's main machine guns. The MG42 was almost only used in squad based situations and in MG nests and bunkers. The MG34 was Germany's all purpose MG. They used it in Infantry squads, AA roles, defensive positions, and even in aircraft themselves. German squads were built around the MG operator. Many of their maneuvers were made to use the MG to it's full potential.
Top MG: MG42
Bottom MG: MG34

Insignias
This section is all about insignias. I'm limiting this to only:
- Waffenfarbe colors
- Shoulder boards
- Helmet decals
- Collar tabs
- Breast Eagle
I won't be covering:
- Medals
- Ribbons and other awards
- Officer ranks
Waffenfarbe Colors
Waffenfarbe is a system of colors that the Germans used to organize troop functions and their different corps. These colors were placed on collar tabs, various patches, and shoulder boards.
This is a table that will help with the rest of the items under the Insignia category..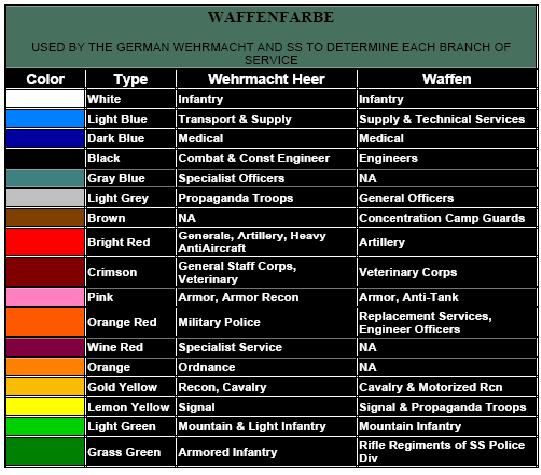 Shoulder Boards
Shoulder boards were a type of epaulettes. They were located on the shoulders where the shoulder and arm seem meets. There are countless combinations of should boards. The piping of the boards DO matter too. If you're participating in a special group other than regular infantry then get the correct piping color according to your unit. Look at chart above for color details.
Two examples of shoulder boards. The left set is a set of shoulder boards that belonged to a soldier in the Signal Corps. The right hand side is from the 92nd Infantry who served in Italy.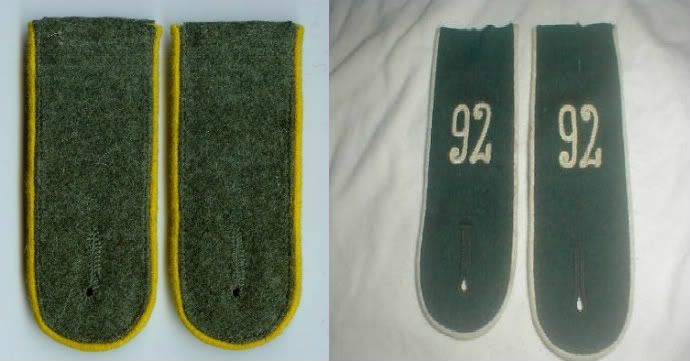 Helmet Decals
During the earlier years of the war almost every Wehrmacht helmet had 2 insignias.
Starting in 1940 only one decal, the one with the Nazi eagle on it, was put on the helmets. In 1943 they made the helmets with no decals at all.
The tri-color decal went on the right side of the helmet and the Steel Eagle w/ Swastika decal went on the left side.
Each decal is placed exactly 5mm underneath the vent hole on the helmet.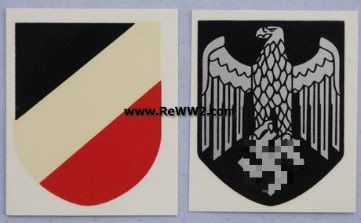 Here's a picture of a young soldier with Wehrmacht helmet decals. Your helmet should look like this after.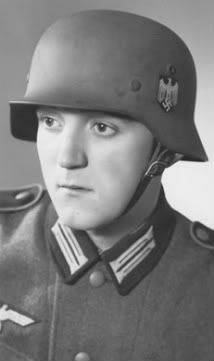 Collar Tabs
Collar tabs were important insignias on German uniforms. As the name says the tabs were placed on the front portion of the soldier's collar. Different tabs were used for different service (Pioneers/Engineers, Jagers/ Light Infantry, etc.).
-Note- Be sure that when purchasing collar tabs that they are EM tabs and not officer tabs. Also, when placing the collar tabs on the uniform be use that they are 1 cm away from the outside.
Breast Eagles
Beast eagles were sewn on the right side of the tunic.
"Sewing Notes
Position: Breast Eagles on worn on the right breast just above the pocket.
Sewing Bevo Insignia:
1. Trim the border material about 1/4-1/2 inch from the actual insignia.
2. With a warm iron or using fabric cement, roll the border back and crease along the edge of the insignia.
3. Sew patch on.
Yes, this is a pain in the rear.
Warning!
1. Trimming the border off at the edge of the insignia will result in fraying or the patch.
2. Using too hot a setting on the iron can melt the insignia."
-
Quoted from ATF
Link:
www.atthefront.com/german/insignia/heer(army)insignia/breasteagles.html
There were many different styles of breast eagles including the type of sewing, backgrounds, colors, etc. The most common was Bevo (sometimes spelled BiVo) and hand- embroidered.
Bevo M36 Eagle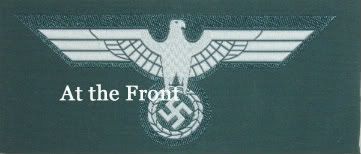 Wool (Hand Embroidered) M36 Eagle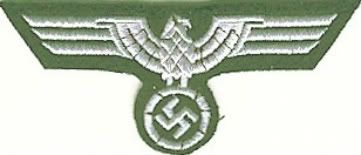 I hope you can notice to difference in the details of the two eagles. Bevo eagles are have more"sharp" of lines than the wool.
Here's a unique image of a Gebirgsjäger soldier. You can clearly see his breast eagle on the right side of his parka. Also, notice the Edelweiss pin on his M43 ski cap. These pins were solely worn by Gebirgsjäger members.
Foot Gear
Marschstiefels (Jackboots)
Jackboots were the main issued foot gear for the German military for generations. However, as the year 1941 coming passing by the German leather supply was running low. Before 1939 these calf-high boots were around 49-40 centimeters high, but after 1939 they were cut down to around 32-35 centimeters. A thing to remember is that these were issued to every soldier was issued these when these were produced. Not just officers had these. Also, the production of these boots ceased at around 1493. So these boots are more for early war impressions.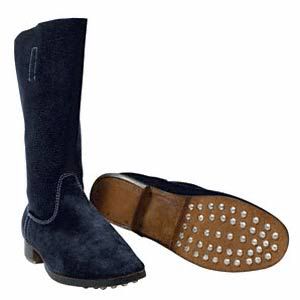 This photo shows a group of Germans in a Norwegian town, 1941.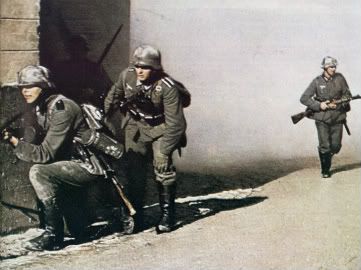 Schnürschuhe (Ankle boots)
Starting in 1937 soldiers were issued a pair of these boots along with jackboots. When jackboots were no longer issued they were told to start wearing the schnürschuhes that they had with a pair of gaiters (listed in Required Field Gear section). These would be issued to every soldier from the beginning to the end of the war.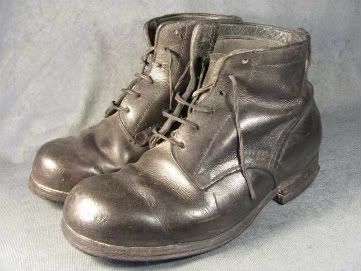 Notice that in this picture that none of the soldiers have jackboots. They do, though, have ankle boots with either gaiters, puttees, or no sort of leggings at all.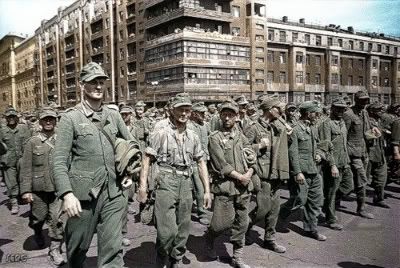 The Gebirgsjäger had a specially modified version of the ankle boot to help them in the mountains. They had hobnail on the bottom. Here's an example.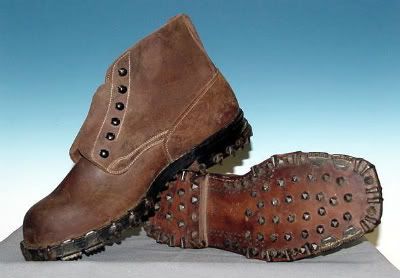 Original Photos
You can always look at these to get an idea of how they wore their uniforms.
Two Wehrmacht soldiers in Russia, 1941
I included this photo because of the right soldier's helmet. Germans used many materials to put on their helmets. They used rope, chicken wire, grass, almost anything!
This photo is just an look at the German NCO uniform before or during the early part of the war.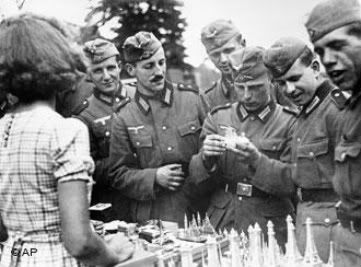 This is a German squad in Russia in the summer of 1942. I wanted to post this for two reasons: 1) For you to get an idea of different ways to wear your field gear. 2) That there's an MG34. This squad is, again, based around the machine gun.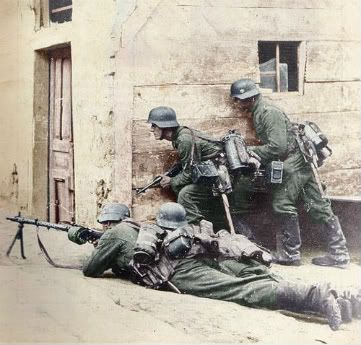 This is another photo of, I'm thinking, an NCO uniform. Also, you can tell it's an early war photo because of his Jackboots. These were replaced in 1941 and their production ceased in 1943. Jackboots are excellent boots are pre to early war impressions.