Post by TheEnd on Sept 26, 2010 2:02:40 GMT -5
I like to mix up my collection of weapon platforms on a regular basis so I can try all of them out. While bored today I noticed I had changed them up a lot and decided to take some pictures.
Anyone who knows me in person knows I hate airsoft M4's. I repaired a bunch of front wired plastic bodied ones and wanted to rip my hair out every time. Then I finally worked on a rear wired metal body and it was much less annoying. So to all those people who thought I would never own one,
I now own two
Full size traded off.. I got tired of finding mag pouches for unique guns and any external upgrade was much more expensive. So now, I look like everyone else!
CA M15a4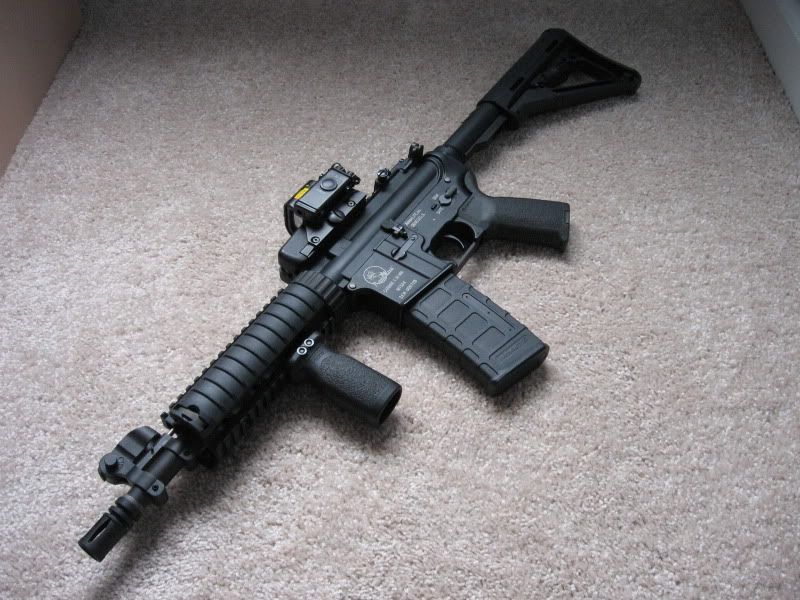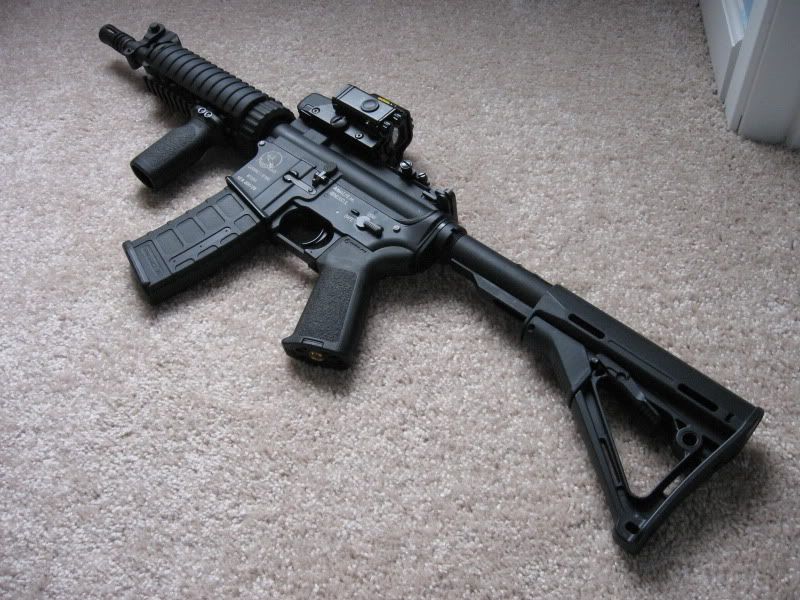 Mod list:
- King Arms CQBR kit
- G&P Eotech 551
- G&P Eolad
- MOE MIAD pistol grip
- MOE RVG fore grip
- ACM CTR stock
- Madbull 6.01 TBB
- Systema bucking
- SCS nub
- KAC 300m rear BUIS
Looks like another Magpul fan gun, but really it's just comfortable. The MIAD is by far the most comfortable grip I've ever held. The CTR just shoulders nicely. I will admit I love the look of PMAGs. I have a black PEQ 15 with a green laser and flashlight on the way. I will eventually get a true MOE CTR stock just so all the plastic matches. Just finished building it the other day and haven't had a chance to use it much yet.
Dboys AKS74 full steel real wood with CAW GP30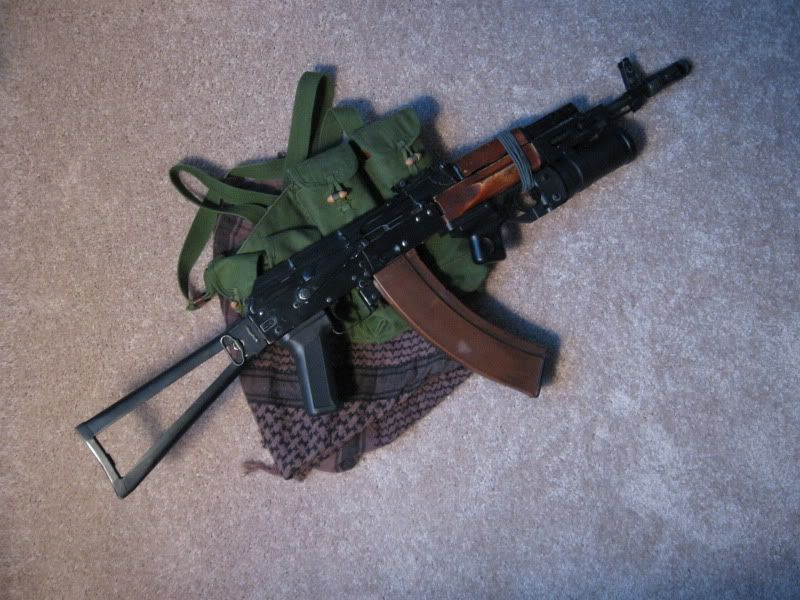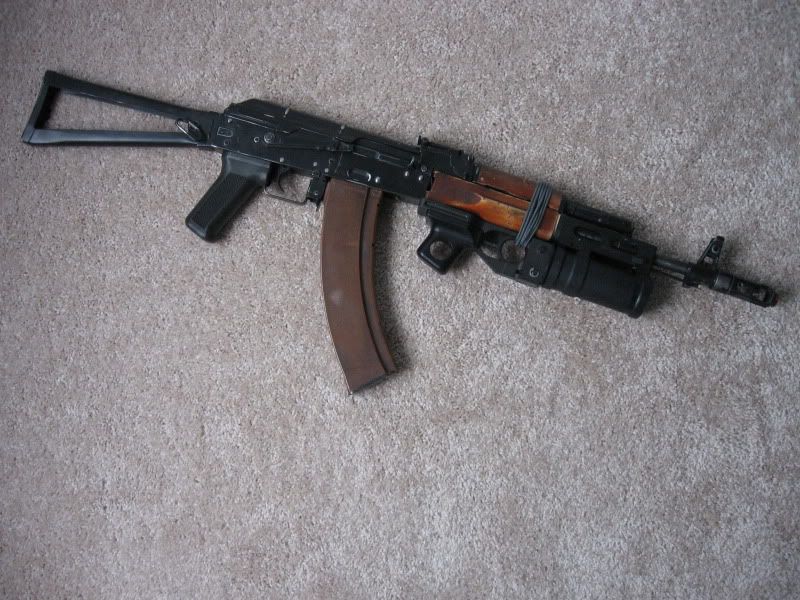 Mod list:
- CA yellow piston
- 7mm bearings
- Systema bucking
- SCS nub
- M120 spring
I picked this up used with a stripped piston. It's the full steel non pot metal body. Pinned receiver as well. The previous owner bought it from scorpion? customs who did the wear job on it. I love the feel of a good AK and this thing is nothing but awesome to hold and shoot. And yes, that cord helps keep the front end together in true AK fashion. The CAW GP30 has a pretty bad mounting setup and feels nice and solid with the cord.
Classic Army M14 match with real wood stock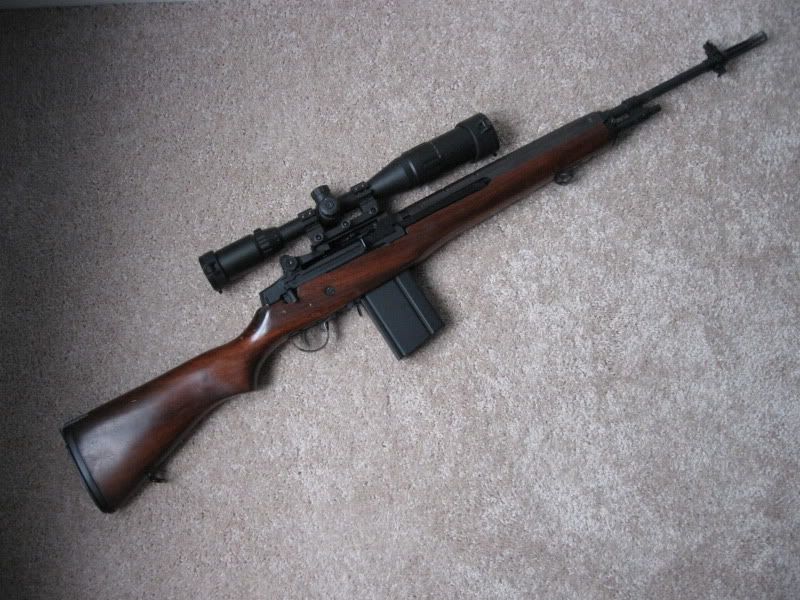 Mod list:
- Semi only mod
- Classic Army real wood stock
- Classic Army scope mount
- Prometheus torque up gears
- G&P M160 high torque motor
- Madbull M150 spring
- Bravo polycarb piston
- Modify bearing spring guide
- Modify piston head with bearing
- Systema bucking
- SCS nub
- Madbull 6.03 TBB
- Leapers illuminated scope
My long term project. I still have a few things to get and a few parts to replace. I use .36 bb's in it and it's dead accurate. I'm going to replace the Madbull TBB with a Prometheus and I've got a few different buckings to try out to try and get some more range out of it.
Galaxy MP5K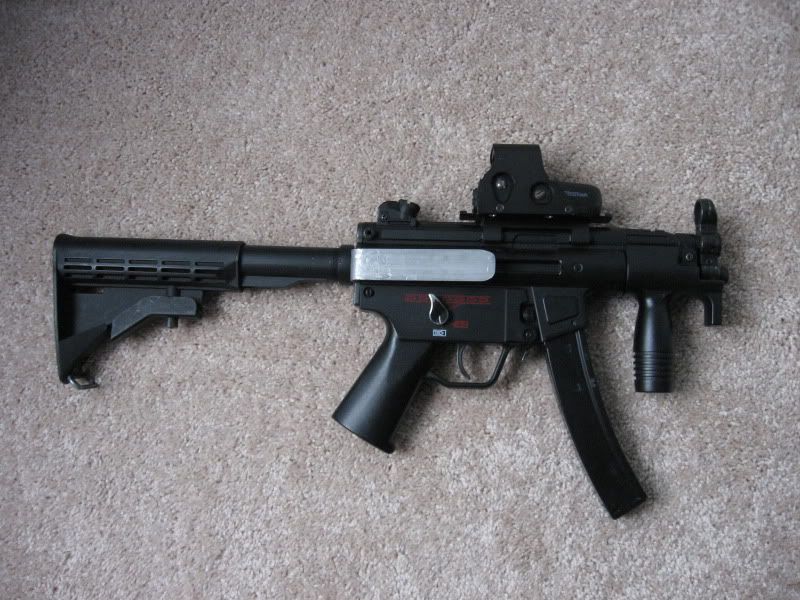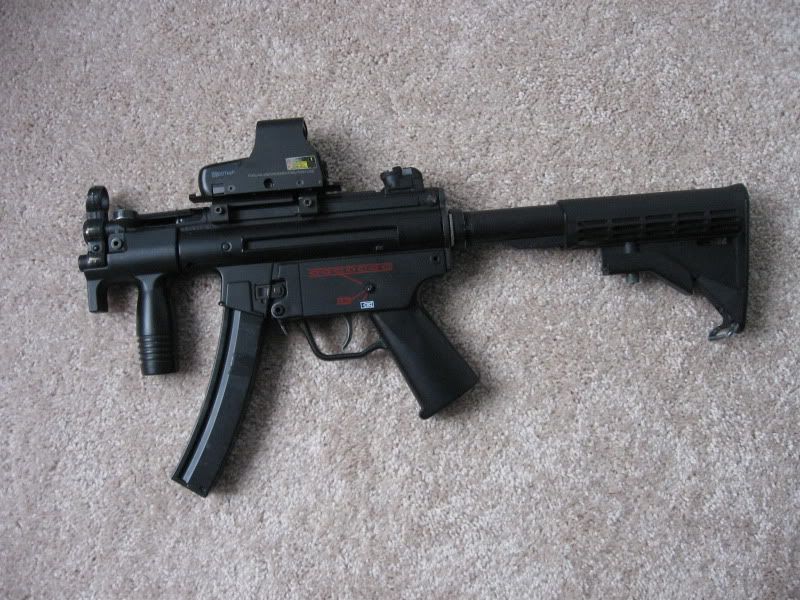 Mod list:
- Full Classic Army 7mm bearing gear box
- G&P M120 high speed motor
- Classic Army M4 buffer tube and stock
- Custom made molle spade
- NC Star low profile claw mount
- Unknown brand Eotech 551
Built as a side arm for when I use my M14. I know it's missing a selector, the threads stripped out so I need a new one. On a 9.6 battery this little thing shoots over 30rps. I wanted the PDW stock but I threw the M4 stock on to try out and I actually really like it. The silver thing is a molle spade. I can easily mount it on the back of my vest and draw it when needed. It works so well I forgot it was there one game.
Double Eagle M3 Tri shot with tactical stock (removed)
I freaking love tri shots. This is my 4th one. I love my M1014 to death, but it's currently apart while I try to stick 3 509mm barrels in it. I also wanted a shorty, but the regular M3 pistol grip has that hideous square rear end that just makes it look stupid to me. When I saw this one I knew I was going to ditch the stock. I love using this thing. This is the 2nd most accurate one I've owned behind the M1014.
New vest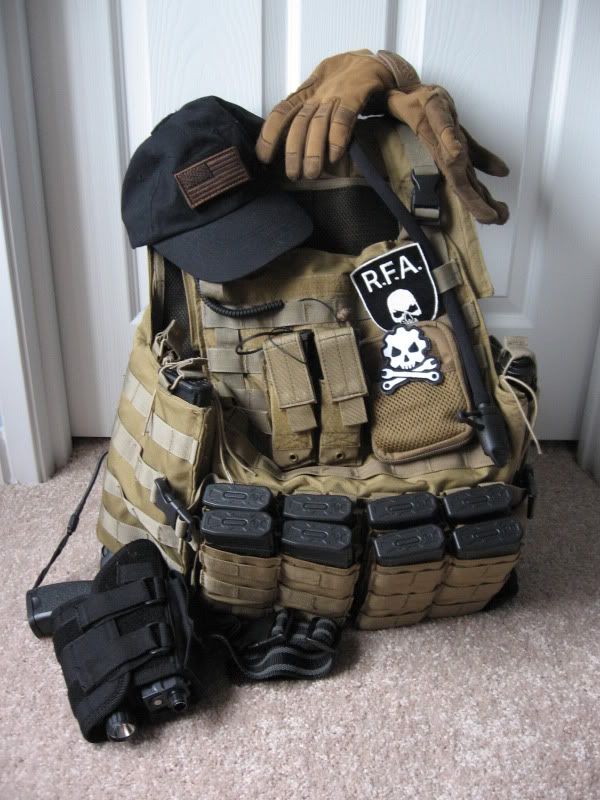 Shown with my mini MK23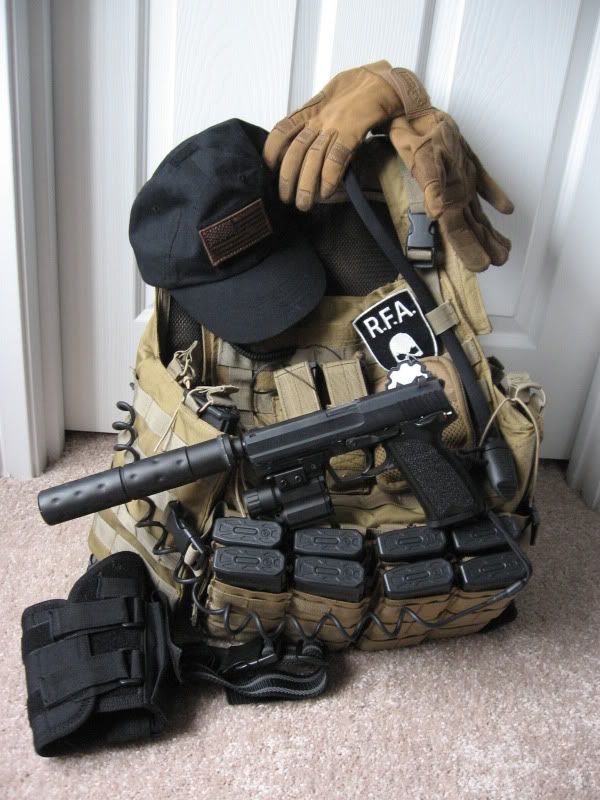 Shown with my new CQBR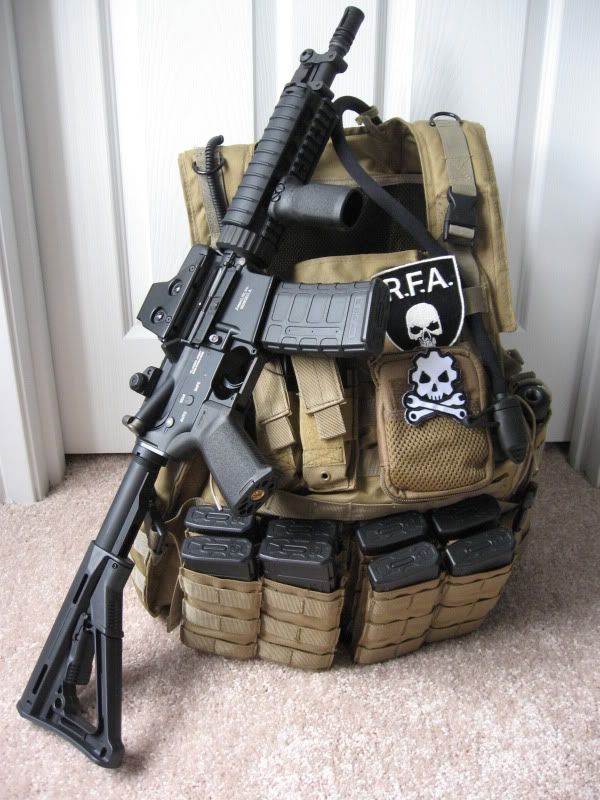 Kit list: (Most was bought used, and I don't know the brands)
- plate carrier
- M4 shingles x4
- Pistol mag pouches x3
- CB VooDoo tool pouch
- Black large dump pouch
- Shotgun scabbard (Not shown)
- Radio pouch
- Motorola talkabout
- Radio Shack bullet mic and ear bud
- UTG adjustable drop leg holster
- hydro carrier
- Camelbak 3L bladder
- Camelbak thermal control kit
- Star green label PMAGs x10
- KWA KP45 mags x3
- Classic Army SOCOM .45 ACP suppressor
Nothing special, just cheap entry level gear. One day I might start to upgrade to real gear but this stuff has been working fine for me so far. My team (R.F.A) is all contractor, so I wear tan pants and a black shirt. I might get around to posting a full gear shot.
UPDATE:
I finally picked up a TM MK23 NBB. I've been on the fence about getting one for a while. This one popped up at a reasonable price so I figured what the hell. If I'm not mistaken CQBR was the original owner, and modded the LAM with an actual laser.
My real plan for this came when I found out KWA is finally going to release their MK23 specwar GBB. This way I can use the TM in the winter for it's NBB gas efficiency, and use the KWA GBB in the summer when gas is useful.
Sorry about some of the images being blurry. I'm not sure what was wrong with my camera but it was hard to focus. I'm going to retake them along with a full gear shot later.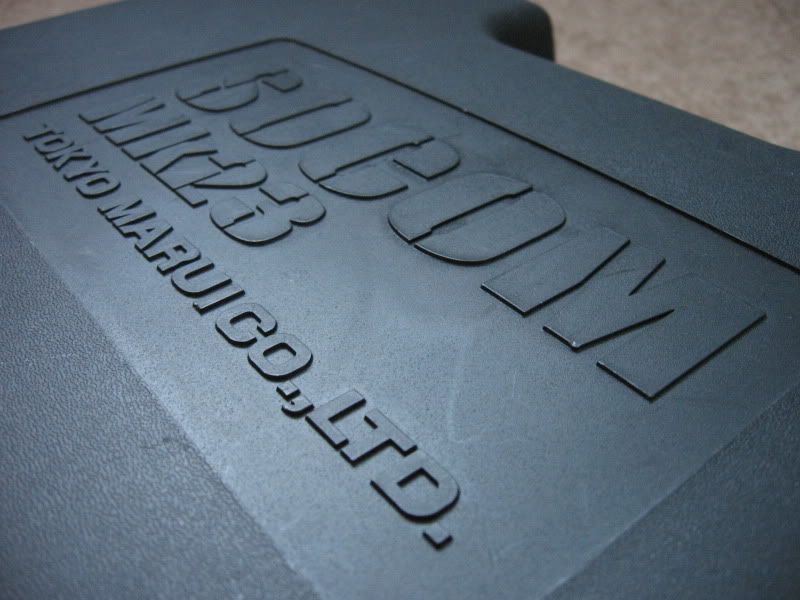 The orange needs a bit of touch up.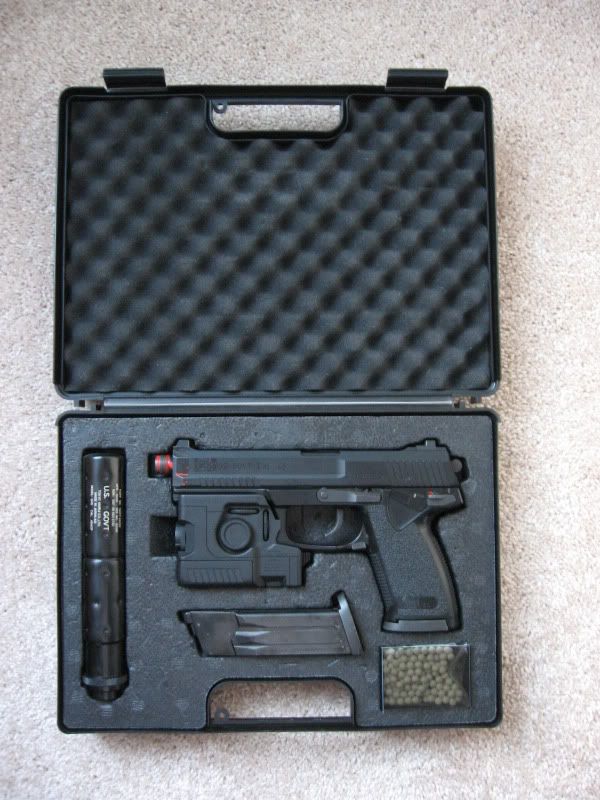 A shot of the laser. Sorry for the graininess, my camera couldn't take a clear picture of this. This thing is bright as hell. I think I'm going to mod in a surefire bulb for the flashlight.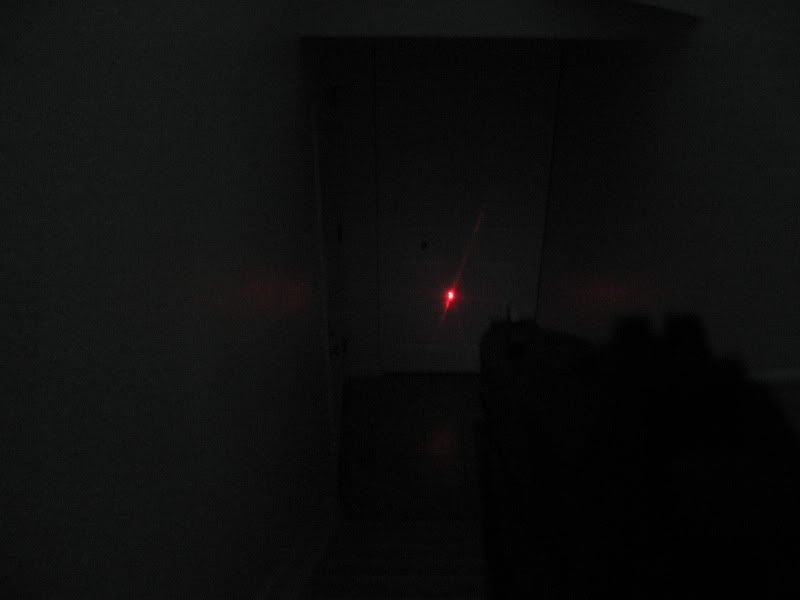 Here is the TM NBB version, and the TM high grade hop up spring version. The spring version shoots just as accurate as the NBB and just as far. Pretty neat.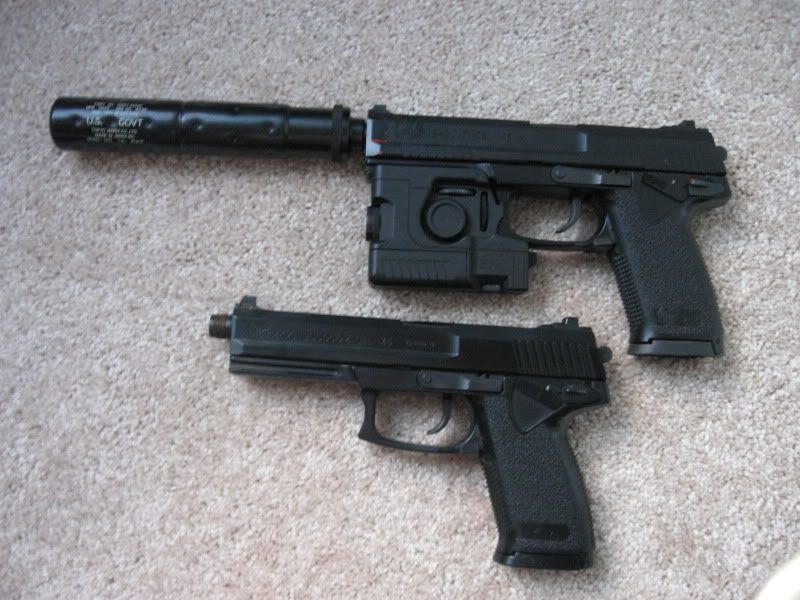 And a group shot with my mini mk23. I wish I could get a hold of a mini LAM unit.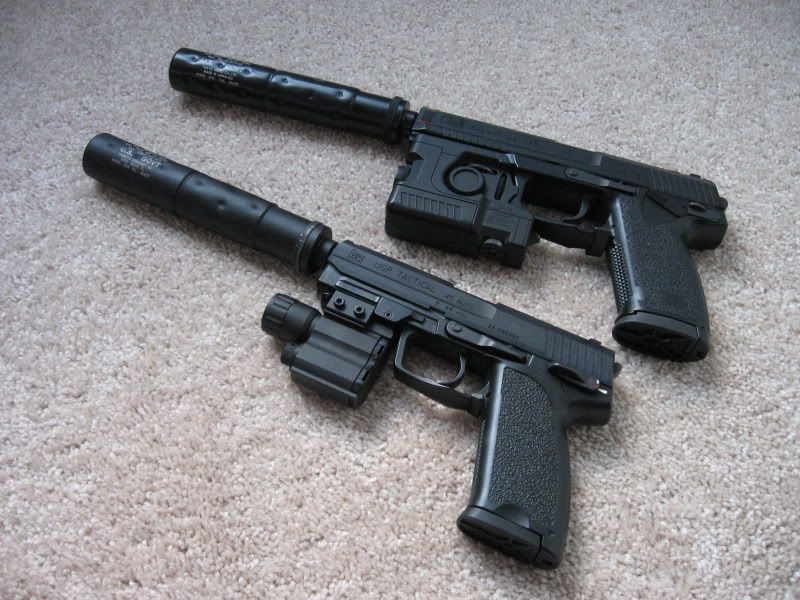 Magpul PTS 120rd PMAGs (M version) x6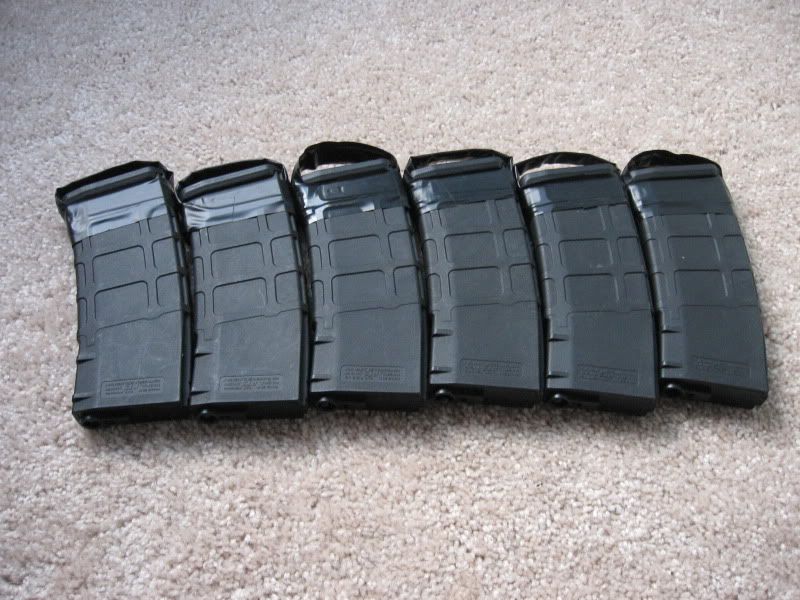 Star green label PMAG on left, Magpul PTS PMAG on right. The home made magpuls were there when I bought them, don't know if I'll keep them.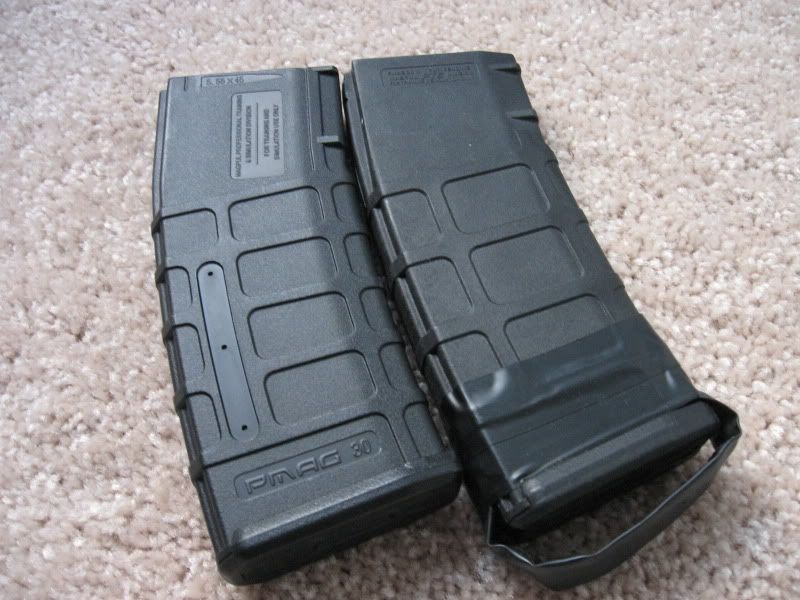 My newly added upside down triple m4 shingle. 1470 rounds total.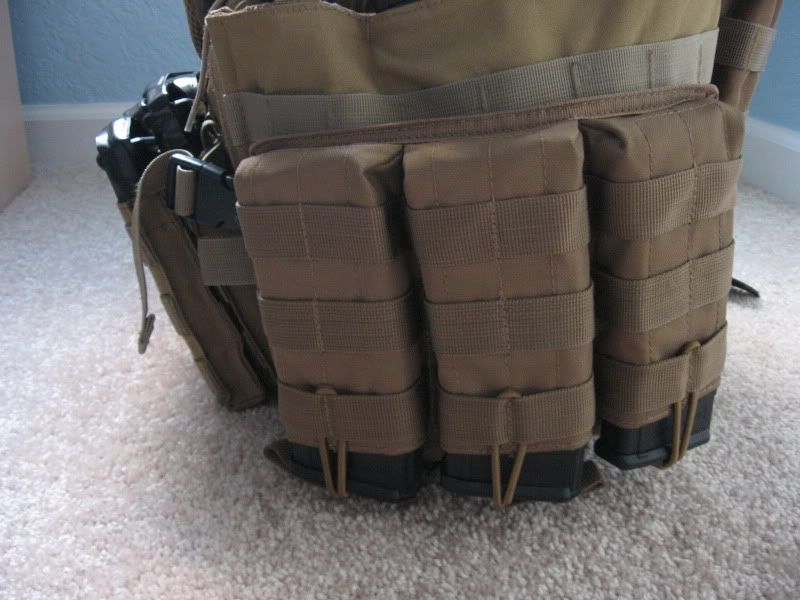 I wanted to get these for the extra 45 rounds and better build quality, but I couldn't justify the huge price difference. Thanks to a used package deal I got them for a decent price. I will say the build quality is much better than the Star mags, but that is to be expected as each Magpul PTS mag costs almost 4 times as much as a Star mag. I don't even want to know how much 16 ranger plates are going to run....