Post by Nightcrawler on Apr 9, 2005 17:06:53 GMT -5
I picked up a new assault vest at The Perimeter for 52 bucks. I got 4 alice clips for free as well. That place is an institution, I'll tell you what. I couldn't be more pleased with my vest. I first locked my eye on it when I noticed that the pockets were big enough to fit my hefty G3 mags, a quality that my previous vest did not posess. Upon further inspection, however, I found numerous other attributes that lead to my eventual purchase.
All the pouches are closed using velcro, which I prefer to snaps. On the my left side, it has 3 large magazine pockets. I've decided to get another magazine simply to fill them all. A pocket is a terrible thing to waste

All three of these pouches are weaved with a thick strip of elastic to hold everything securely, which it does. Above those three pouches is a pocket which was troubling me. I couldn't figure out if I had anything to fill it with... until I looked inside. It has elastic loops inside that are more than sufficient for shotgun shells. When my Benelli's fever goes down, I will have no problem employing this pocket. Above that pocket is a small one that I instantly understood. I put one of my cobra radios and discovered that I could easily use the radio without removing it from the pocket.
The opposite side has 3 horizontal pockets. The 2 large ones on the bottom are often found carrying a flashlight or spare gun batts. The small one above those fits a speedloader in an uncanny fashion. Above this pocket is a serene empty space of mesh. It allows comfort when resting a gun on your shoulder and aiming. My old vest had a buckle right there, making it impossible to aim comfortably. On this same side of the vest are 3 molle loops, which I will later use to alice clip a holster upon.
The back of the vest is home to 3 strips of 10 molle loops and metal rings at each end of the OD strips. Just for the sake of novelty, I clipped a dual pistol mag pouch to the back. Upon the shoulders are strips of thick OD nylon with more rings. These strips are attached with velcro. I need to figure out what to put on my molle strips and the rings adorning them and the shoulders. I am more than open to suggestions.
The vest adjusts as easily as any other. I was curious though, what's the best way to tie the laces after adjusting the vest? The belt loops are tougher and a lot more secure than I am used to. I am very pleased. I very much prefer the zipper up the front as opposed to buckles and snaps. The entire vest is made of a tough and lightweight mesh, a breath of fresh air.
The outside is only half of the excitement of the vest. The inside has 2 "secret" pockets which I am at a loss to fill. On the inside of the back is another pocket made of mesh. It is 6 inches wide and 15 inches long and is intended for the housing of a hydration bladder. Again, a pocket is a terrible thing to waste. It is thus that I have ordered a Platypus Hydration Bladder for $6.95, an admirable bargain. The dimensions of the bladder? An uncanny 6" x 15".
I suppose that this could be considered a positive review for this vest. The only problem is that I don't know the name of the brand that makes it.
Pics
The Front: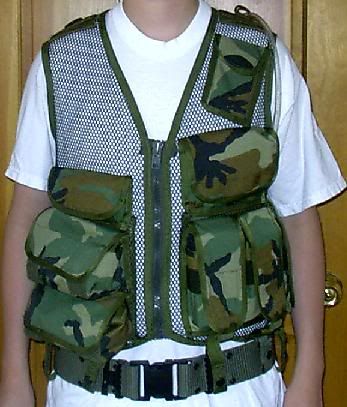 The Back: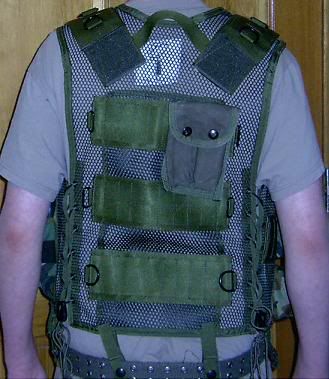 The Inside