Post by Knife on Jun 16, 2012 23:38:09 GMT -5
I've got a bunch of Eagle Industries gear in Khaki for sale. Most of it is in near brand new condition unless specified. Most of it is produced in 2004, so it has a green tag. Much of it has gone unused. Only trades I'm looking for is a BCM BCG, High end Kydex holster for Glock 17 + Surefire X300, Aimpoint T1 (2 MOA preferred, will take 4MOA though) or a Surefire X300. Shipping is not included. Paypal preferred.
Deployment Bag - $50
Retails for around 200 bucks, you can fit an absolute ton of stuff in these. I've had 70 + pouches, 6 vests, BDUs, holsters, and belts in one before. I have two at the moment, and only need the one. Some wear on the outside from being used, mostly dirt. The plastic card holder bit on the has been cut out for some reason.
2x Butt Packs - $50 Each
Great on the back of your carrier. Can carry a ton of stuff in these, I've brought everything I've needed to a game in one and on my rig. Large external pocket, three external pockets, and a pocket along the top. Can be used as a large dump pouch and general purpose pouch on a belt. I think retail on these is around 150 or so.
Slim Hydration Pouch - $50
Not much to say about this, generic slim hydro with MOLLE on the back. Great if you want a super slim hydro carrier with the ability to add on storage if you need it. Much more low profile than a MAP. Can be easily mounted on an RRV without a backplate. Retails for over 100.
Single Point Leg Panel - $20
Standard drop leg, has all hardware. I might have a second one of these, can't remember.
2x Popflare Downs - $9 each
Great for a bunch of chemlights and some suppressors. Not sure what all will fit in one. Pouch opens down rather then up, makes for an easy drop into your hand. Can be mounted upside down if you want top opening
2x MBITR Pouches - $35 each
One might be slightly used. I have more than two, but I'm not sure of the exact number.
Triple AK Mag pouch - $35
Double AK Mag Pouch - $25
Single AK Mag Pouch - $15
Not sure how many AK mags these can fit, I don't have any to test them with. I think each pouch can fit 3 M4 mags too.
High Ride M9 Holster - $20
High Ride 1911 Holster - $20
Not sure if these will fit other models or not, but I'm sure some similar sized pistols will fit in them.
4-8x Single Frag Pouch - $10
Not sure of the exact number of these, but I have a lot of them.
2-4x Smoke Grenade Pouch - $10
Have a bunch of these as well. Good for tornado grenades or those black plastic bangs whose name I cannot remember. Also works for M4 mags in a pinch.
9mm Single Mag Pouch - $10
9mm Double Mag Pouch - $15
Nylon, not FB. Can fit a variety of 9mm mags. Perhaps they can fit larger or smaller ones as well, but I have nothing to test it with. Good for flashlights that are sized similarly to a Surefire G2.
9mm Extended Mag Pouch - $15
Fits 9mm mags, but its elongated. I think they were originally designed for extended Sig P226 mags. Great for longer flashlights or tools.
.45 FB Pouch - $15
Kydex mag pouch for .45 mags.
12 Round Shotgun pouch - $20
Has elastic loops on the inside for 12x 12g rounds. I've used them for batteries in a pinch. Has a velcro panel on the outter flap. I've seen people cut out the elastic on the inside for more storage room.
Double 9mm FB Pouch - $25
2x Single 9mm FB Pouch - $15
Kydex pouches. Designed for M9 or P226 mags. Does not fit Glock mags. I think you can heat them up and stretch them out for Glock mags, but I've never tried.
SAW Pouch - $30
Comes with both the divider and elastic dump pouch cover. Designed for M249 mags, but works great as a general purpose pouch. With a divider it fits 6 M4 mags in two channels.
Gas Mask Pouch - $20
Opens horizontally. Can be used as a dump pouch. The top has an elastic closure that keeps the top tightly closed.
Here's some overall photos, I can get individual ones on request.
Here are the frags, pistol mag pouches, high ride holsters, 12rd shotgun pouch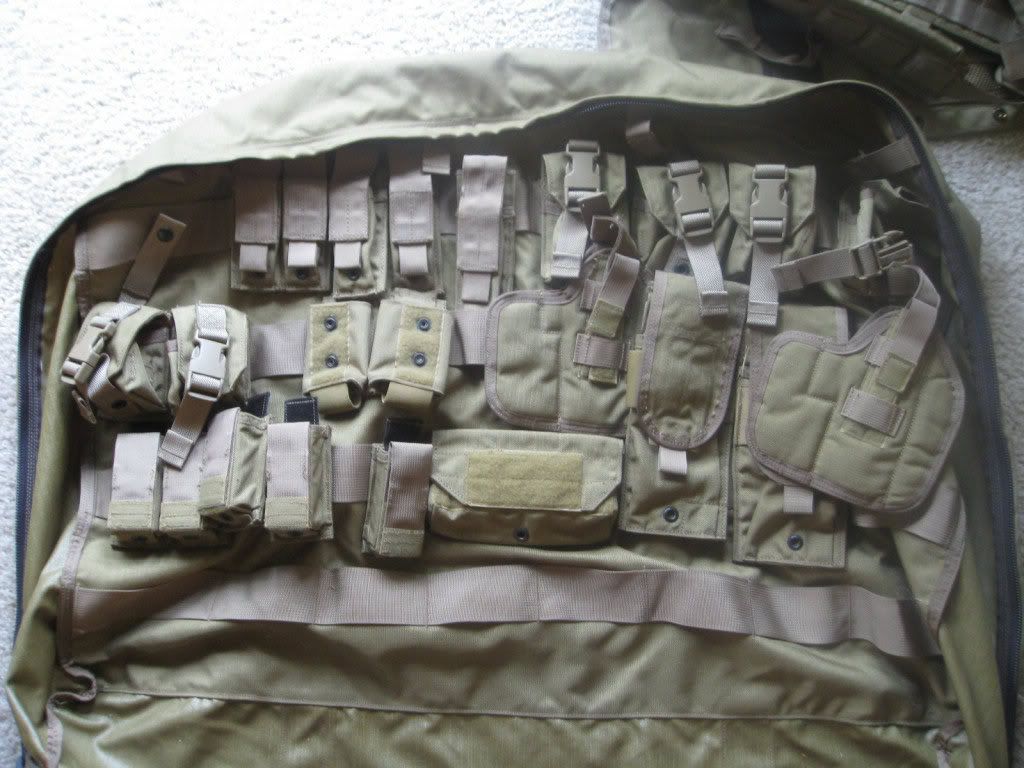 MBITR Pouches, Gas Mask, Leg Panel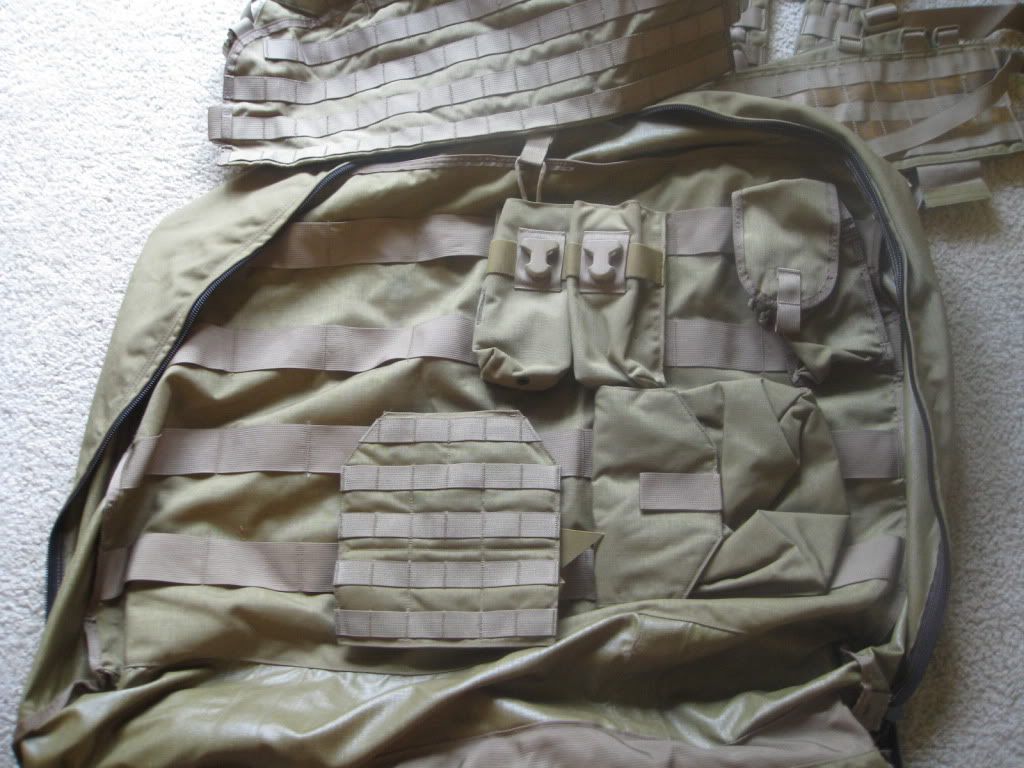 Buttpacks, Hydro, Smokes, Popflares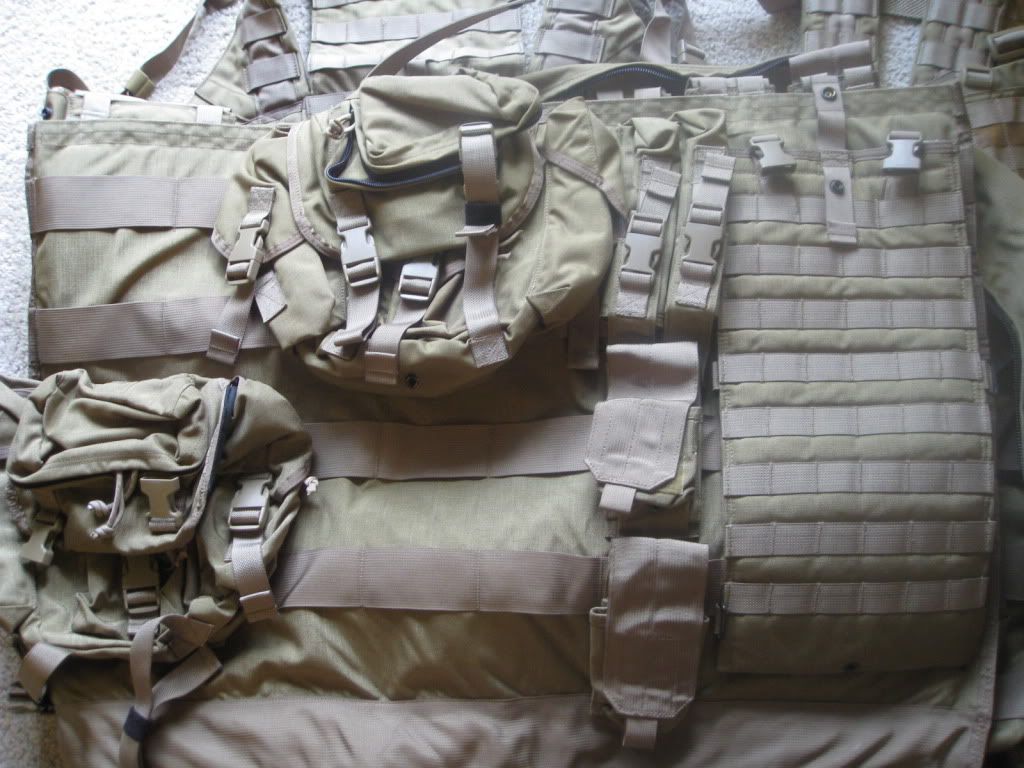 AK, M4 and SAW pouches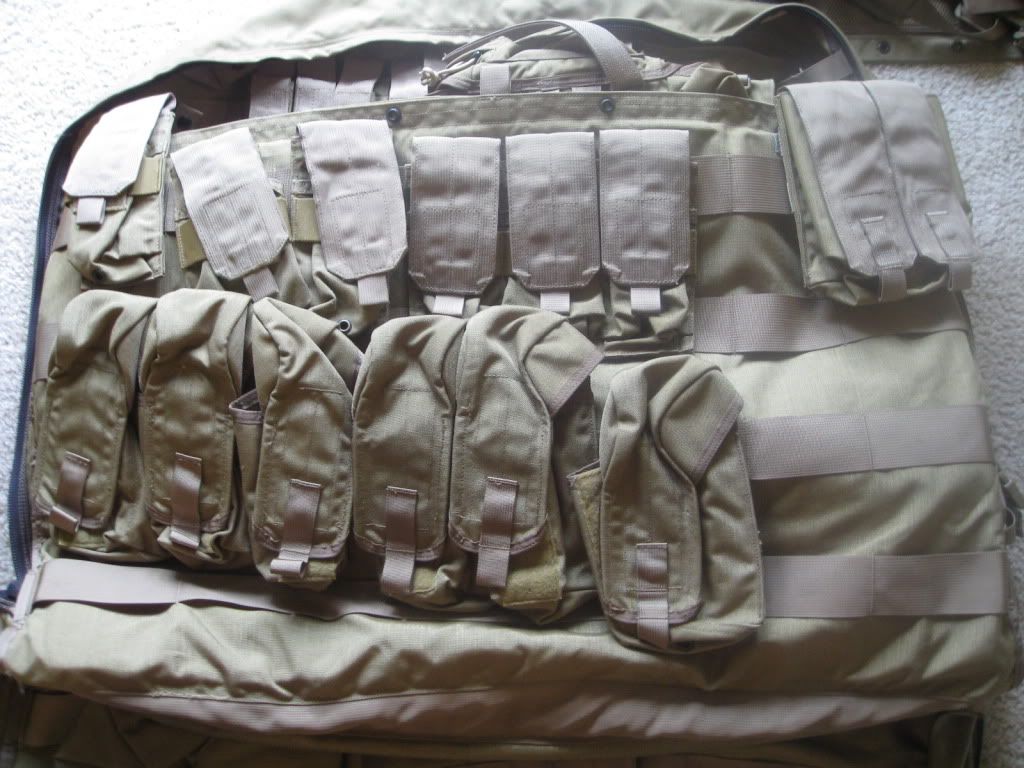 Deployment bag with all of the above inside and lots of room left. The other photos are on the inside. There are four panels, an internal divider with one on each side, and another one on each outter wall. These are BIG.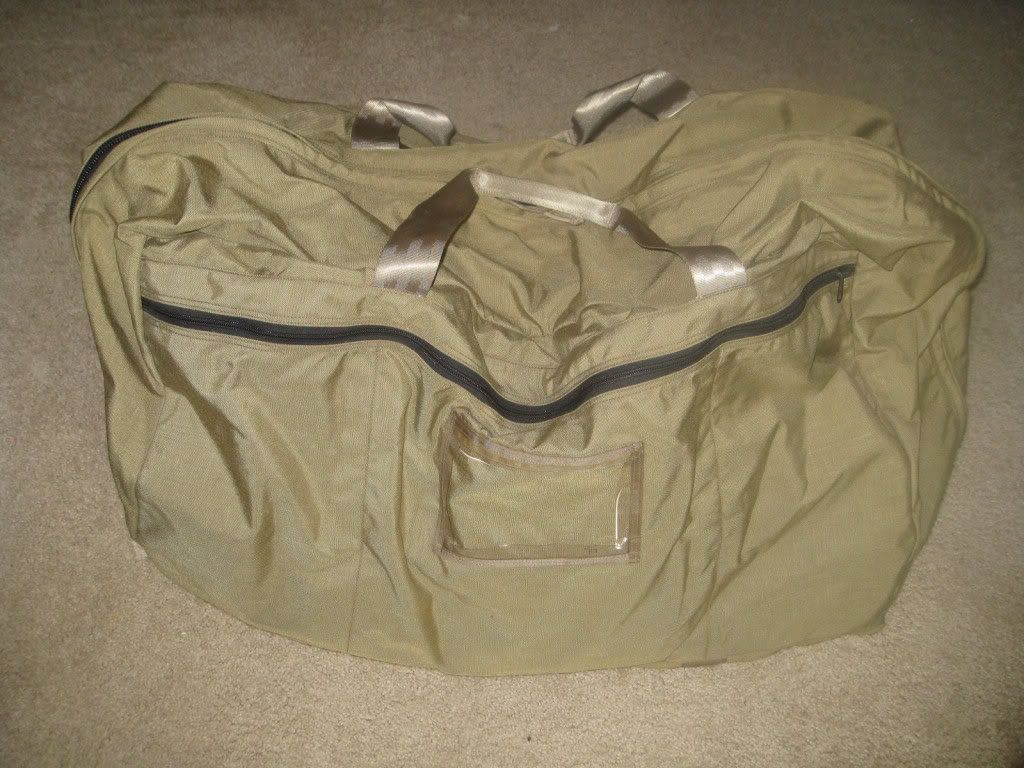 That's all I can think of off the top of my head without digging through and checking everything. If you're looking for something else, let me know. 75% + chance I'll have what your looking for.